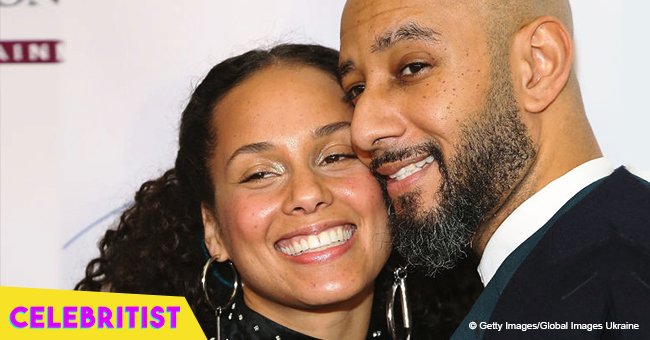 Alicia Keys' husband Swizz Beatz shares photo of blended family with all of his kids
The power couple has been married for seven years, and Alicia has become like a second mom for Swizz' kids from previous relationships. Co-parenting is never easy, but they have mastered that art with the moms of all the kids, and now they have a beautiful blended family.
Alicia Keys and DJ Swizz Beatz married in 2010, the same year they had their first kid together, son Egypt. Four years later, Keys gave birth to their second child, son Genesis Ali. The two boys have three more siblings on his father's side, and all of them get along wonderfully, as proven in a recent post made by the proud man.
On an epic Instagram post shared by Swizz, the 39-years-old star showed off his beautiful blended family, posing in front of a place with his wife, and all of his kids. He captioned the photo "#TeamDean" which is his real last name.
The whole crew was dressed in casual clothes, ready to take off, probably to a well-deserved summer family vacation, and we can't wait to see more photos of all the Dean kids spending time together.
Alicia and Swizz recently appeared in the cover of the Cultured magazine, paying homage to The Black Panther Party by recreating an iconic photo of activists Eldridge Cleaver and ex-wife Kathleen Cleaver.
Speaking about the secret to a joyful marriage, they explained that the key is communication, as thrilled as it may sound:
"We've been married seven years and we don't fight, we don't raise our voices. It's all about communication. Where I'm weak, she's strong—and vice-versa. We always talk about how we don't own each other. She owns herself, I own myself, but we come together and have this amazing family. We established that early, both coming out of long relationships. We knew what had worked in our past relationships and what hadn't. We came to the table a little knowledgeable for this round."
They also opened about mastering the art of co-parenting alongside Swizz' ex-wife, Mashonda Tifrere, who will be releasing a book about the experience in the next few months. "With a dedicated chapter for fathers written by Swizz and a heartfelt foreword penned by Alicia, the three of us are raising our voices to help generations of families worldwide," said the author to People magazine.
Is clear that Alicia has a lot of love for her and her husband's kids, as she penned a beautiful message for all of them on her Instagram account on Mother's Day that says:
"I never thought love could be so deep, so wide, so open, so full, so elevating! Such a teacher! Thank you for teaching me, growing me, deepening me!! I'm Forever yours Egypt, Genesis, Kasseem, Nas, and Nicole."
We're glad to know that everything is working out for Alicia and her husband and they have such a wonderful, loving, blended family.
Please fill in your e-mail so we can share with you our top stories!