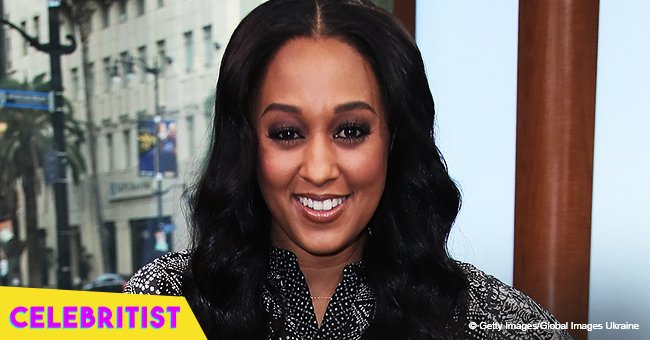 Tia Mowry melts hearts with only few visible teeth in baby pic
The former "Sister, Sister" actress shared a throwback photo from her childhood, and fans noticed how much her niece looks like her. She gave birth to her second baby just last month, and we're still waiting to know the name of the little girl.
Tia Mowry recently melted hearts after sharing on her Instagram account a photo from her childhood. In the pic, a chubby-cheeked Tia smiles brightly to the side of the camera while wearing a white dress with lace details and a yellow ribbon on her short hair. Fans couldn't help but notice how much she looks like her niece in the picture.
Little Ariah, the youngest daughter of Tia's twin, Tamera Mowry, is the exact same copy of her aunt and mom. Two years ago, Tia confessed through an Instagram caption that the girl is still grasping the concept of her mom having a twin, so she usually confuses Tia with Tamera and calls her "mommy."
The Mowry family keeps on growing, and just a few weeks ago Tia welcomed her second child with Cory Hardrict into the world. The little baby girl was born on May 5th, and Tia has been sharing adorable photos of her little family holding the baby even though she still hasn't revealed her name.
She confessed to People magazine back in March that the couple still hadn't decided a name for their daughter, but that it will definitely be a "unique name." "We like unisex names," she said, and Cory added, "Names that show some strength and some power behind it. It has a great meaning. So that's what we're looking for."
Tia and Cory married in 2008 and had their first child, son Cree, in 2011. The couple has been open about their struggles trying to conceive a second time since Tia suffers from endometriosis and getting pregnant once again was a difficult and rigorous process for her.
However, after announcing she was expecting another baby back in November, the former actress confessed she was enjoying her second pregnancy more than her first one. Tia revealed that knowing what to expect and how to manage certain situations was reassuring.
Mowry shared most of her pregnancy journey on social media, making her fans swoon over her big baby bump and adorable family shots. Now, she's sharing her post-partum photos, trying to create awareness about the fact that not all women are capable of snapping back to their pre-baby bodies so fast.
"I wanted to shine a light on how our society creates false expectations after a woman gives birth. Ladies, it's okay that our bodies are not PERFECT after our babies are born. Give yourself time. Go at your own pace. Don't allow people to put a time limit on YOUR body," Tia wrote on an Instagram post showing that she still has a belly after giving birth.
Tia recently announced that the name of her baby will be revealed on her YouTube Channel, Tia Mowry's Quick Fix, and we can't wait for the big reveal.
Please fill in your e-mail so we can share with you our top stories!