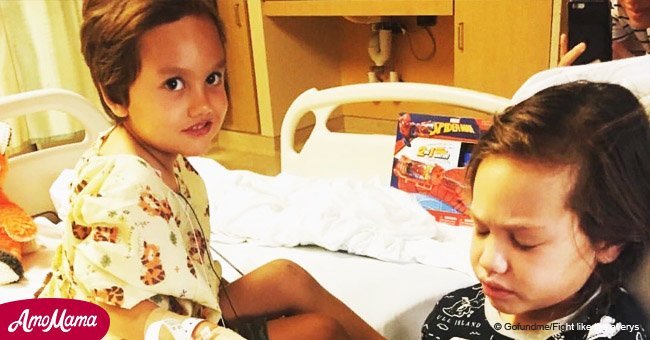 Little brother and sister diagnosed with brain tumors within 2 weeks of each other
Within two weeks the Avery family found out both kids have brain tumors. The brother and sister are both fighting with everything they've got.
Six-year-old Kalea Avery was reportedly experiencing intense headaches for weeks. Later on, it was found out that she had a brain tumor called Medulloblastoma.
Kalea was immediately admitted to the hospital. At the time, her younger brother Noah, four, began experiencing the same symptoms.
Doctors started running tests and eventually delivered the bad news to the kids' parents.
The couple never expected that Noah would also have a brain tumor.
Follow us on Twitter at AmoMama USA to stay updated about the two Avery kids.
Because of their kids' condition, Duncan Avery – a coach in Redondo Beach – and Nohea Avery – a nurse practitioner – both took a leave from work to stay with their children 24/7.
As revealed by the GoFundMe page made for the family, the two kids had successfully gone through a surgery to remove the tumors.
Both siblings will be undergoing intensive chemotherapy as well as radiation therapy.
Talking to KTLA, the couple revealed they have been taking the recovery of their kids day by day.
"It was devastation with both kids, but when we found out about my son, we were just blown away that this could happen in the same family," said Duncan.
As for Nohea, she said, "I don't know how I'm going to get through this, but you do. You find a way. You look at your children, you hold them and you just find a way."
She added that they both have learned to appreciate even the smallest achievements throughout their kids' journeys.
The doctors expressed that they have never met such a case where both siblings have been diagnosed with brain tumors in a short span of time. They said they have only experienced instances where siblings were diagnosed with cancer years apart.
The Avery family expressed that they plan to undergo genetic tests to get the answers they need.
For more information and images, go to the family's GoFundMe page.
Please fill in your e-mail so we can share with you our top stories!