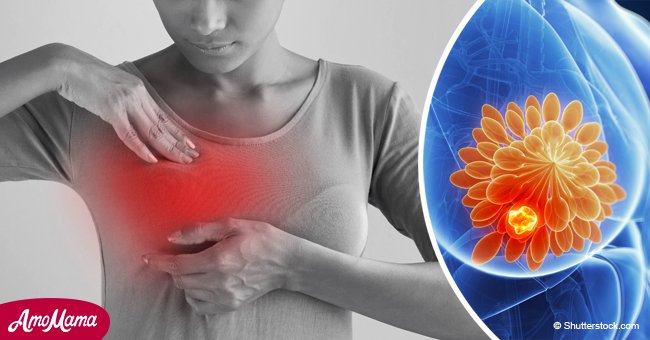 The 5 stages of cancer that all women should be aware of
The terrible disease affects thousands of women every year all around the globe, and doctors are only able to establish a treatment plan once they've determined the stage.
Breast ancer comes in stages ranging from 0 to 4, and each one is based on different characteristics displayed by the disease. Doctors must first determine at what stage the cancer is before they are able to start treating patients effectively.
According to Breastcancer.org the pathology report will provide doctors with information that allows them to calculate the likely stage.
With breast cancer, doctors will also use surgery to help determine whether it has spread to other healthy tissues, both breasts, or other parts of the body. One of the first areas to check is underarm lymph nodes.
If they believe the cancerous tissue has spread, they are also likely to do more blood tests and other imaging scanning.
The stage of breast cancer is determined by specific characteristics:
The size of the cancer tumor and whether or not it has grown into nearby tissue (T)
Whether cancer is in the lymph nodes (N)
Whether the cancer has spread to other parts of the body beyond the breast (M)
Tumor grade, which is a measurement of how much the cancer cells look like normal cells
Estrogen- and progesterone-receptor status: do the cancer cells have receptors for the hormones estrogen and progesterone?
HER2 status: are the cancer cells making too much of the HER2 protein?
Oncotype DX score, if the cancer is estrogen-receptor-positive, HER2-negative, and there is no cancer in the lymph nodes
These characteristics are complex to calculate, but make the grading far more accurate than it previously was.
Stage 0
This stage of breast cancer is described as non-invasive breast cancer. This means that there is no evidence of cancer cells or non-cancerous abnormal cells breaking out of the breast in which they originated, including the other breast.
This also means that is has not gone to infect normal tissue cells either.
Stage 1
This is described as invasive breast cancer, in which the cancer cells have broken into other normal breast tissue cells.
Stage 1 is subdivided into categories 1A and 1B.
1A is cancer that has a tumor no bigger than 2cm, and has not invaded tissues outside the breasts.
1B cancer has either small groups of cancer cells growing in the lymph nodes instead of the breasts, no bigger than 2mm each, or a single tumor in the breasts as well as the groups of cancer cells in the lymph nodes.
Stage 2
The second stage is also divided into subcategories, 2A and 2B.
2A describes cancer in which there is either no tumor in the breast, but tumors are found in the auxillary lymph nodes, or in the lymph nodes near the breast bone, or tumors up to 2cm that have spread to 1-3 auxillary lymph nodes.
The tumor could also be larger than 2cm, but not larger than 5, and not have spread to other areas.
2B has tumors between 2 and 5cm that has spread to the lymph nodes via small clumps of cells. or to the auxillary lymph nodes or those near the breast bone.
It can also be characterized by tumors bigger than 5cm that haven't spread to the lymph nodes.
Stage 3
Stage 3 breast cancer is divided into three subcategories, 3A, 3B, and 3C.
3A is characterized by either no tumor in the breast or a tumor of any size, that has spread to 4-9 auxillary lymph nodes or to the lymph nodes near the breast bone.
Stage 3B can mean that the cancer has spread to the chest wall and/or skin of the breast, and is causing swelling or an ulcer. It can also mean it has spread to 9 auxillary lymph nodes or the lymph nodes near the breast bone.
If it has progressed to 3C, there could be no sign of cancer in the breast, or a tumor of any size. It will also likely have spread to the chest wall or breast skin.
In stage 3C, it can spread to 10 or more auxillary lymph nodes, lymph nodes above or below the collar bone, or lymph nodes near the breast bone.
Stage 4
If breast cancer has progressed to stage 4, it means that it has spread beyond just the breasts and lymph nodes to other organs of the body. It can be diagnosed as stage 4 either at first diagnosis, or as recurring cancer.
Depending on the stage and the subcategory, doctors will determine an appropriate treatment plan.
Please fill in your e-mail so we can share with you our top stories!
The information in this article is not intended or implied to be a substitute for professional medical advice, diagnosis or treatment. All content, including text, and images contained on news.AmoMama.com, or available through news.AmoMama.com is for general information purposes only. news.AmoMama.com does not take responsibility for any action taken as a result of reading this article. Before undertaking any course of treatment please consult with your healthcare provider.