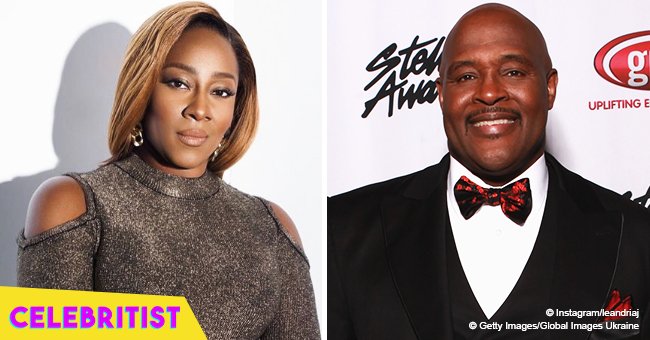 Gospel singer Le'Andria Johnson garners support after cursing the Church & Marvin Winans

Le'Andria Johnson has an issue with the Church and Marvin Winans, so she let it all out in a controversial Facebook rant. Her recent outburst may have cost her a spot at the Essence Music Festival, but the gospel singer couldn't care less. Meanwhile, fans have expressed their support for her.
Gospel singer Le'Andria Johnson has spoken up against her Church and says she's tired of it all. She vented her anger via a Facebook live video and dragged Pastor Marvin Winans in it.
"You know what I'm tired of though? … I'm tired of being Le'Andria Johnson that y'all know ofAnd Ima tell you like this: I could be on a Kirk Franklin level. I could be on a Mary Mary level. Yolanda Adams, Marvin Sapp, Fred Hammon. All the gospel greats … All the R&B. Beyoncé, Brandy. … If I played the game, I could really be on that level. I could, but I'm not 'bout playin' no games, though."
Johnson went on to say that she's "tired of this sh*t," and refused to stop cursing or be herself for the sake of being a gospel superstar, even if it meant losing a spot at the Essence Festival.
"Essence Festival is a couple of days away and if y'all feel like y'all don't want me on it, y'all don't want me on it."
After her controversial rant, the singer's appearance at the festival was reportedly canceled by organizers. She was supposed to be a part of the group performance honoring Dottie Peoples. In response, Johnson said,
"I'm not gonna be there because the gospel part of the Essence Festival, apparently, me speaking my right — I have an amendment right … and that's freedom of speech. So my freedom of speech caused me not to be at the gospel part of the Essence Festival. And I'm pretty sure they don't want me to be there because I said 'f— Christianity, f— the church,' I said that. Maybe that's why they don't want me to go."
Meanwhile, Johnson slammed Marvin Williams too.
"I don't care whose spiritual father he is. He could have been mine, but no. He wanted to go past me like I was a peasant! Walked right past me like I was a peasant … and you ain't even know! I'm a product of you! But it's all good, though. Now you know."
Fans of the singer tweeted their support validating Johnson's stand and showing appreciation for the truth she put out there.
Others enjoyed the entertainment it brought.
And yet there were those who took Johnson's words seriously and contemplated on what they meant.
At the end of it all, Johnson maintains she "spoke the truth" and did not regret it.
Please fill in your e-mail so we can share with you our top stories!