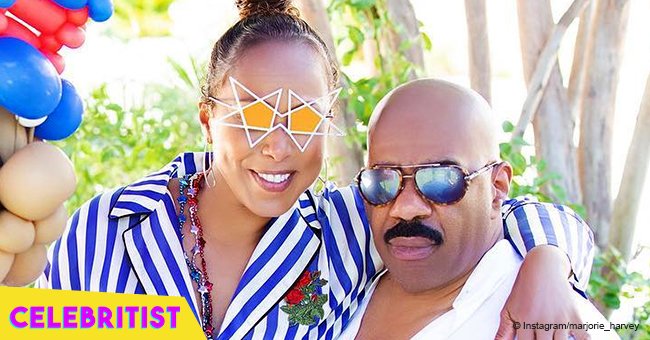 Steve Harvey shares picture together with wife Marjorie on their private jet

Steve and Marjorie Harvey just recently celebrated their 11th anniversary together, hitting the beach to celebrate it. A good two weeks later, the couple is about to embark on another vacation, riding a luxurious private jet towards their destination.
The Harveys are living the life, and fans and followers of the couple have been extremely delighted to see photos of them going strong, amid rumors of their multi-million dollar breakup that has finally been quashed both by the couple and Gossip Cop. Rumors were that Marjorie was furious with Steve's cozy chats with the Kardashian-Jenner momager during meetings and other occasions.
However, the couple is indeed going strong and the photos posted on their Instagram accounts to celebrate their 11th wedding anniversary and their latest vacation prove that there is nothing in the way of their happy marriage.
Steve and Marjorie enjoyed a romantic balcony dinner for their anniversary, overlooking the water. The two made sure to make the most out of their romantic beach trip, having a private meal prepared by a personal chef and a butler. They also hired a professional photographer to take their photos by the beach, in celebration of their 11th year together.
After their weekend getaway, Steve and Marjorie headed home to celebrate 4th of July weekend with the rest of their family. During the weekend, their children, grandchildren, and close friends all gathered in the Harvey backyard, having loads of fun together in celebration of one another. Their party included inflatable playgrounds for the children, fun games for the adults, and scrumptuous food for everyone to enjoy.
Now, the loved-up couple is clearly making the most out of their own summer vacation, heading to another vacation to an unknown destination. With Marjorie dressed in an old rose suit and Steve in a printed polo and black slacks ensemble, it is quite difficult to guess where the celebrity couple is headed.
With their constant updates on social media, it is only a matter of time until fans and followers find out where they have actually headed.
Please fill in your e-mail so we can share with you our top stories!