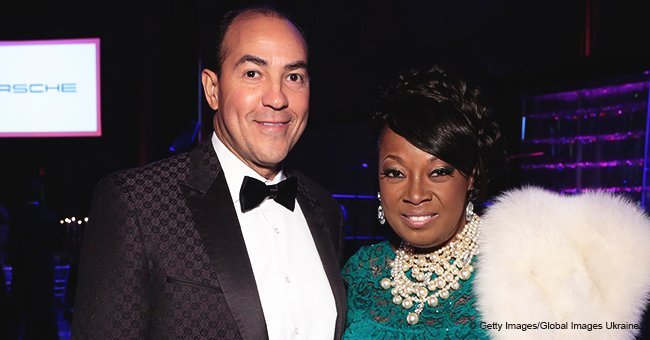 Star Jones shares photo with husband and son after loss of her 'baby girl
The American lawyer, journalist, television personality, and fashion designer suffered the awful loss of her beloved dog this year, but she's also had plenty of positives to enjoy as well.
Star Jones has had a year full of ups and downs, marrying her husband Ricardo Lugo, becoming a mother for the first time to his son, Jake Lugo, and losing her dog, Pinky, who she always fondly called "baby girl"
Despite the loss that devastated her, she has had Lugo and Jake to support her when she struggled to cope, and has shared that they are the best parts of her.
In May, the family celebrated Jake's 13th birthday, and Jones took to Instagram with a sweet photo of the three of them enjoying a meal in a restaurant in celebration of the special occasion.
"Happy Birthday to our favorite 13 year old! I'm so happy that Jake is the son I prayed for and the young man I'm immensely proud to have in my life. I wore the shirt Jake gave me for #mothersday: "Not A Step-Mom...A Bonus Mom!" I LOVE this kid! His Papi & I LOVED making his birthday dreams come true over the last couple of days! From the crazy spy setup dinner Thursday for "Birthday eve" with friends at #SafeHouse...to a special after school Birthday visit to the #Applestore for a big boy iPhone... ending at #Family Dinner at Gibsons Bar & Steakhouse. We partied! Talk about #Fun in #Chicago!" she wrote in the caption.
In the image, the three of them were smiling up at the camera, while Jake wore a necklace identifying him as the birthday boy.
Just weeks later, Jones celebrated Father's Day for the first time since the couple became man and wife.
In the caption, she thanked her husband profusely for everything he had given her, and all the experiences she had had a chance to have for the first time thanks to him.
She also shared a video of them saying their vows on their wedding day.
"Ricardo. you're so much more than my "husband." You're a partner in my life that I value more than you know. You're the father of our son and I've watched how much you love him and he loves you. You're everything I hoped and prayed for as an "equally yoked" man to share my life and help raise a family with. You're my husband, my friend, the love that I'll always need," she completed her caption.
The couple tied the knot on a Royal Caribbean Cruise in the Bahamas in late March, with about 150 of their closest friends and family members in attendance.
Jones and Lugo got engaged during the summer of 2017.
Please fill in your e-mail so we can share with you our top stories!