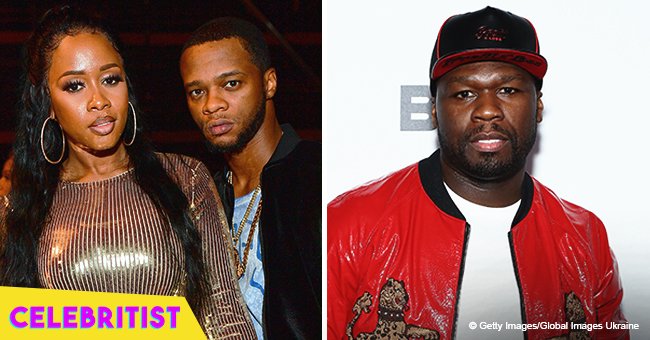 50 Cent slams Remy Ma's husband following her recent weight loss
After 50 Cent commented an innocent yet flirty message on one of Remy Ma's posts, Papoose fired back with some comments of his own. Now, the two rappers are going at it on social media, going so far as to block one another.
Last Sunday, Remy shared a photo of herself looking slimmer than usual, and the "Power" star couldn't help but acknowledge this. On the comment section, he wrote "Damn Remy - you lost mad weight. Hey slim.".
Despite 50 Cent eventually deleting the comment after it had caught some attention, Papoose angrily posted a photo of 50 on his Instagram, and even dragged his baby mama into it. In his wife's post, he commented "Damn @daphnejoy no wedding yet? If @50Cent doesn't marry you... I'll introduce you to my homeboy. He's more mature.".
Once 50 Cent realized that Papoose has gone off on social media, he took it upon himself to block the couple.
Posting a photo of Remy with the word "blocked" in the middle of it, he wrote:
"Remy blocked till she can get control of her husband and [expletive]. All I said was she lost weight and pap start tripping. I'm not fighting nobody over their wife now. get the strap."
Papoose might be in quite a protective mood, especially since he and Remy Ma just renewed their wedding vows earlier this month. During the ceremony, the couple revealed that they were expecting a child together. The couple has been together for a decade now, but Papoose might have interpreted that 50 Cent's comment was trying to shoot his shot with Remy.
Despite their feud, SOHH reveals that Remy Ma and 50 Cent are actually close, and the singer recently revealed how much Cent actually meant to her in an Instagram post last 2016. In the post, she shared that when she needed him the most when she was incarcerated, the rapper did not run away and pretend to be busy like other people. 50 Cent took the time to write and sign 2 separate letters in hopes of helping Remy win her appeals.
"He didn't have to do it, but he did and I truly appreciate it... thank you"
It seems from 50's perspective, he was just trying to be a supportive friend to Remy when he wrote the comment given their history. However, due to Papoose getting angry over his comment, he's made sure to cut ties with the couple and fight back with some comments of his own.
Please fill in your e-mail so we can share with you our top stories!