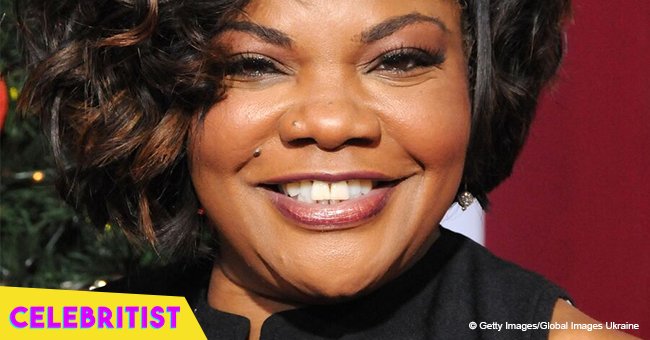 Mo'Nique rocks grey hair and slim figure in plunging purple dress
Mo'Nique's stand up shows used to revolve a lot about being a big girl and staying proud of it. But these days, she has learned that self-love is a fantastic thing, and she has been sharing her fitness journey with fans over social media.
The Academy Award winner started to change her lifestyle a few years ago, after her husband of eleven years, Sidney Hicks, asked her weight. When he got a response, he wasn't happy. Not because he thought she didn't look beautiful, but because it wasn't good for her health.
"That's too much weight. I want you around for a lifetime, and that's not healthy," said Sidney. In that moment, Mo'Nique said she realized she had never felt so loved, so she decided to make a change to be able to stay around for her husband and their kids.
"I think that the journey I have to take now is that I have babies. I have a son who is 23, but I also have a son who is nine. And we have twins who are seven. I want to meet their children. I want to be able to play with their children. I don't want to be a burden on my family due to self-neglect. I was fortunate to watch my grandmother play with my children. I want to be in the same position."
Mo'Nique has been documenting her journey to a slimmer figure on her Instagram account, sharing not only her exercises and dance routines but also her meals and empowering messages to stimulate the mind and soul of those women that, like her, are struggling with their weight and self-esteem.
A few months ago, the astounding 50-years-old reached one of her milestones, and she was excited to share the good news with her fans through an emotive video she posted on Instagram saying:
"I said that I would share this journey with Y'all, the weight loss and getting healthy. And today when I got on the scale since I was 17 years old, I've been over 200 lbs. Today was the first time in my adult life that I've been under 200 lbs. So, I wanted to let y'all know it's possible, we can do it, and we can get there."
Her process, she said, was all about keeping it organic. There were no cheating products, surgeries of pre-packaged food. All her effort was made through dancing and eating raw foods. "It's called giving yourself the chance to live the best life you can live. Thank you all for sharing my journey," she said.
The mother of four shared the advances in her desired fit figure by sharing a beautiful photo that left her fans shocked. In the picture, Mo'Nique is donning a stylish sleeveless purple dress with a plunging neckline that put her cleavage on display while hugging her curves to perfection.
She also rocked a beautiful makeup that enhanced her cheekbones her gray wisps of hair, keeping it natural and showing that age is just a number when it comes to confidence and self-love.
The actress, who has been criticized for admitting she's on an open marriage, has a YouTube show with Sidney where they talk about the pros and cons of their relationships and give advice to people on how to manage an open marriage without it becoming a nightmare.
While most people believe an open marriage is only based on sex with strangers, for Mo'Nique and Sidney the idea is cemented on being honest with each other and not having to hide anything.
"When I said I had an open marriage, people automatically jumped to sex. They automatically went there," she said to The New York Times a few years ago, "But I've been best friends with my husband since we were 14 years old. When we say open, we're very honest. There are no secrets. Oftentimes you have people that are married, but they're strangers, and we refuse to be those people."
Mo'Nique keeps on putting hard work into her life, and we're glad to see her feeling and looking incredible.
Please fill in your e-mail so we can share with you our top stories!