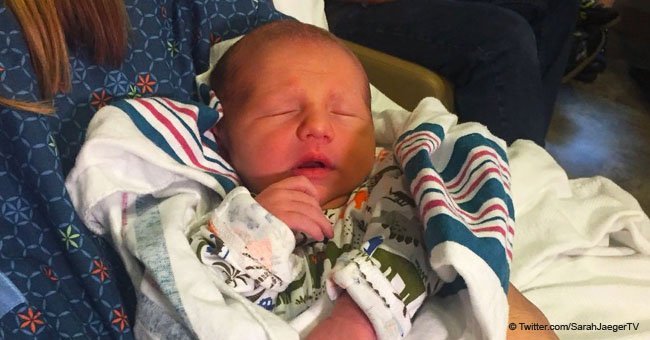 41-year-old woman was unknowingly pregnant with a baby growing behind her ribs
A mother of three boys welcomed her fourth bundle of joy earlier this month, but Kelly Yakich didn't even know she was pregnant until she went into labor.
As reported by WNEM, Kelly woke up one morning feeling under the weather but paid it no mind. When she experienced a 'big burst of pain' later that day, she went to the doctor.
A sonogram revealed that she was pregnant and Kelly gave birth a few hours later. Her husband, John, joked that they "had nothing to do this weekend."
He said they were "making other plans when life made other plans for us." Read more on our Twitter, @amomama_usa
John confirmed that both the mother and the 6 pounds 4-ounce baby were healthy and happy, but admits that they are still coming to grips with what happened.
However it may turn out, the family still considers it a miracle, and have chosen a name for their youngest sprout: Gunnar Hunter Yakich.
According to Kelly, she didn't gain any weight and was still wearing her regular size clothing. There were no pregnancy symptoms, signs or pain either.
Kelly said she was using the Depo-Provera birth control shot every three months, so she wasn't concerned when her period disappeared.
It isn't the first time that Kelly got sidetracked by an unexpected pregnancy, WSMH reported. She gave birth to her 4-five-year son just three weeks after finding out that she was expecting.
"It kind of feels like a dream but I pinched myself and it hurt so I knew it was real. It's like they say anything can happen. You just never know."
John Yakich, WSMH, June 28, 2018.
The medical team informed Kelly that it might be because Gunner 'grew behind her ribs, up against her back,' the same as her 4-year-old Beau.
Please fill in your e-mail so we can share with you our top stories!