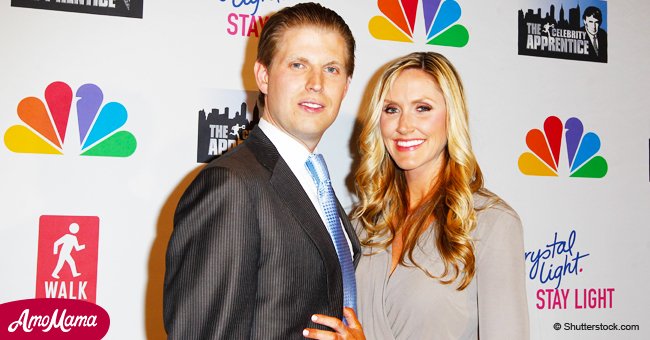 Lara Trump shows off bikini body in new photo with son Luke

The 35-year-old television host and mother-of-one, Lara Trump, spent the afternoon relaxing poolside with her 10-month-old son, Luke.
She uploaded two photos to Instagram, much to the delight of her 402,000 followers. Lara wrote in the caption: 'Sometimes you need a baby in a swim cap to get thru. [sic]'
Lara added the hashtag 'Monday' and 'wishing for the weekend already.' The snap has already received more than 14,000 likes in the first few hours. Read more on our Twitter, @amomama_usa.
Swipe right to see the second image, which shows Lara kissing a giggling Luke. The proud mother was wearing black bikini bottoms with a white and green bikini top.
Luke won her followers over if their comments are anything to go by. A user known only as Megan admits that she isn't a fan of Lara's father-in-law but added: 'Cute baby tho. [sic]'
Ruth Forehand said Luke is 'so adorable,' while Cris Martin said the photo is precious. She added: 'I miss them at that age. My two have grown up & left the nest.'
Lara worked as a producer for Inside Edition for four years but resigned soon after Donald Trump was elected as President. She is now the online producer for Trump Productions' Real News Update.
She is married to Eric Trump, the President's son with his first wife, and the couple will celebrate their fourth anniversary in November; they exchanged vows at her father-in-law's Mar-a-Lago estate.
The couple considers having more children in the future, and Eric still joked with Gale Ritterhof from Westchester Magazine that he needs a tape recording of their interview.
"She was always set on just one more. But you heard her; you've got the comments on tape! She said 'at least two kids!'"
Eric Trump, Westchester Magazine, May 30, 2018.
Please fill in your e-mail so we can share with you our top stories!