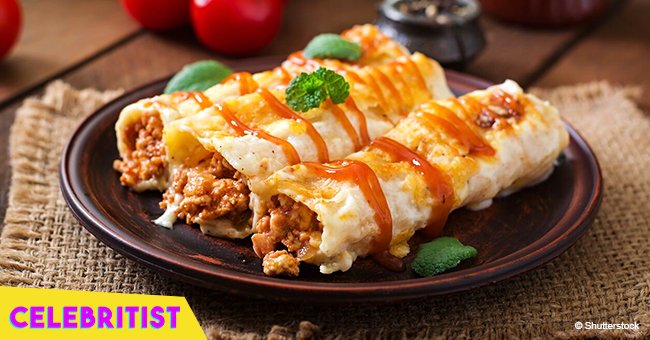 Here is how to cook saucy, 'down south' chicken enchiladas
While most Mexican inspired food can be eaten without a fork and knife, you're going to need them for this saucy goodness that will leave you craving for more and more.
When people think of comfort food, their mind often goes to a good pot of mac and cheese, apple pie, some beans or even a classic hamburger with fries.
However, today we bring you an easy recipe for a dish that does wonders if you're craving saucy, cheesy and spicy food with a "down south" touch.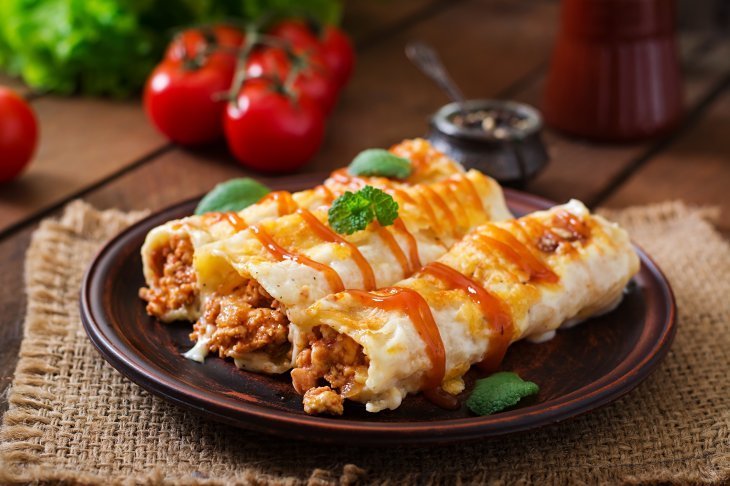 Credit: Shutterstock
Enchiladas, for those who don't know, are soft corn tortillas wrapped around any kind of filling, mostly chicken or meat, and covered with a chili pepper sauce. The dish may vary according to everyone's taste.
While some people prefer the classic chicken and cheese combination, others add corn, beans, vegetables and other kinds of meats to the recipe.
Today, we'll teach you a basic recipe of chicken enchiladas, including a homemade enchilada sauce that will add a unique touch to your dish.
You're going to need the following ingredients:
3 Boneless Chicken Breasts
1 dozen Corn Tortillas
1 lb Four Cheese Mexican Blend
1 medium Onion
3 cloves of Garlic
3 tbsp Salt
1 tbsp Black Pepper
Enchilada sauce:
1/4 cup canola oil
2 tablespoons of flour
3 tablespoons of chili powder
1 (8 ounces) can of tomato sauce
1 cup of chicken broth (water works too)
2 teaspoons ground cumin
1 tablespoon minced garlic
1/2 teaspoon onion powder
1/4 teaspoon salt
Preparation:
Preheat the oven to 350 degrees.
For the Enchilada Sauce:
Heat the canola oil in a saucepan on medium heat. Add the chili powder and the flour and stir gently. Keep stirring the mix until the bright red color turns a bit brown.
In a bowl, mix the tomato sauce with the rest of the ingredients until it is fully blended. Add the tomato mix to the saucepan and whisk until fully incorporated.
Cook for 8-10 minutes on medium heat until is thick enough.
For the enchiladas:
Add the chicken, garlic, salt, and pepper to a pot with water and cook for 30 minutes. Remove the chicken from the pot and cool it down. Afterward, shred the chicken and then set it aside.
Add the onion to a frying pan and sauté it for 15 minutes or until is caramelized. Remove the onion and set aside until later.
In another frying pan bring the oil to temperature and lightly fry the tortilla on both sides. Place the tortilla on a paper towel to remove the excess fat.
Add 1 cup of enchilada sauce, the onion and 1 ½ cup of cheese to the chicken and mix well. Add the chicken to the center of the tortilla then roll your enchiladas.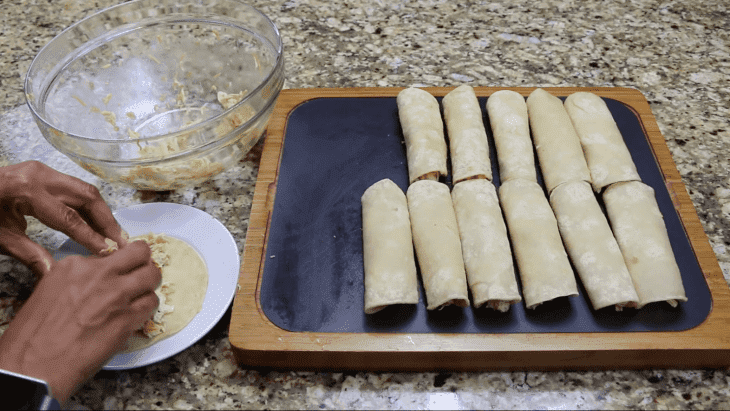 Credit: Youtube/Soul Food Cooking
Cover the bottom of a pan with enchilada sauce and place the enchiladas on top. Pour the remaining sauce over the top the enchiladas and add the remaining cheese.
Transfer to the preheated oven and cook for 20 minutes.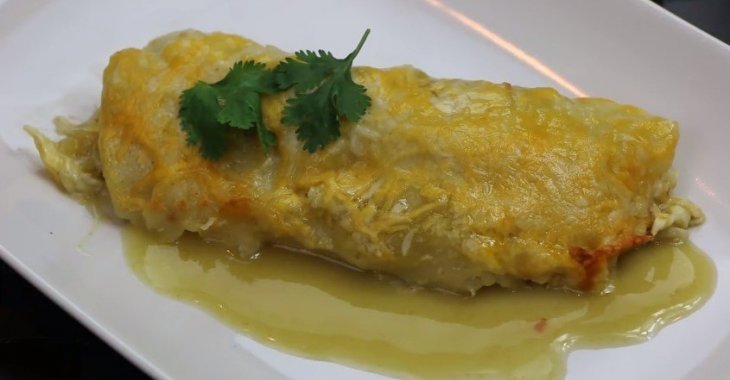 Credit: Youtube/Soul Food Cooking
Enjoy your chicken enchiladas, you can make this easy dish for family and friends, or if you're feeling down, this an excellent way to cheer you up.
Let us know if you try it.
Please fill in your e-mail so we can share with you our top stories!