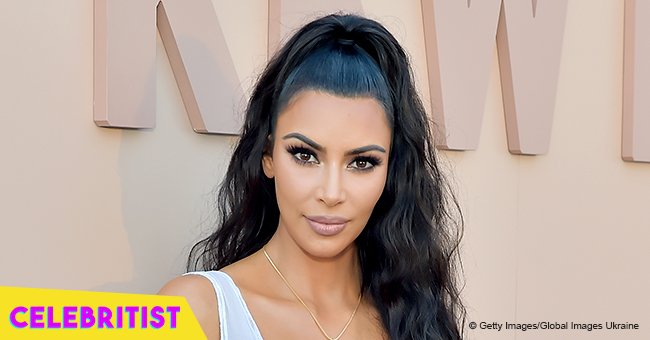 Kim Kardashian sued for allegedly copying her new fragrance's logo design

Socialite and businesswoman Kim Kardashian has a legal battle on her hands after she stole a logo for her new fragrance.
As reported by The Blast, Vibes Media trademarked their logo six years ago. Even though the logos aren't similar, Vibes Media believes it's a 'close facsimile' of their registered trademark.
She first used the logo earlier this month on Instagram and Twitter to promote the fragrance before it's big launch.
The story is still developing, and Vibes Media not only wants 'unspecified damages,' but they also want to stop her from selling the perfume and demand that current stock be destroyed.
The fragrance bottle is shaped like the logo currently hanging in their office and said at no time did they give her permission to use the trademark.
According to People, Kim landed in hot water before and Hooshmand Harooni claimed that the star stole his idea for a smartphone case he patented in 2013.
The case has 'integrated lighting accessories' to take better selfies, and Kimisaprincess Inc was slapped with a $100 million lawsuit for patent infringement after she endorsed the case.
Back in August, Kim's lawyer said the patent 'had no merit' and insisted that she had done nothing wrong. Neither Kim nor her team has released a statement about the latest lawsuit yet.
TMZ also covered the story revealed that Kim made approximately $5 million in the first five minutes of the perfume's launch earlier this week.
The launch coincided with World Emoji Day and included two other fragrances as well, KIMOJI Cherry and KIMOJI Peach, which sells for $45 per bottle.
Kim is one of the many celebrities turned entrepreneurs who have leveraged their television success by launching profitable side businesses.
Besides Kimsaprincess Productions LLC and KKW Fragrances, she also created Khaotic LLC, Kdash LLC and Dash Dolls LLC with her mother, Kris Jenner.
Please fill in your e-mail so we can share with you our top stories!