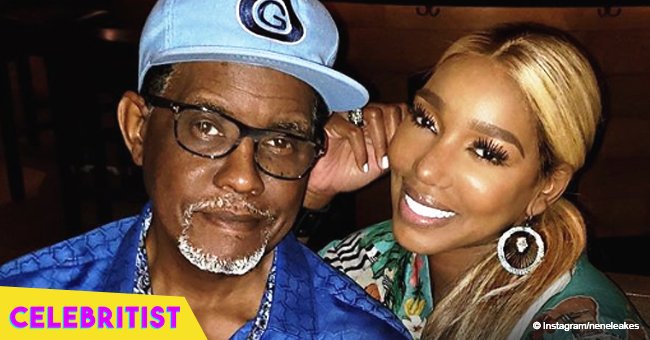 Nene Leakes melts hearts with pic of slimmed down husband Gregg & all of their sons

Amid her husband Gregg Leakes' battle against cancer, Nene Leakes shares a heartwarming family photo revealing all their sons' full support.
Nene Leakes has never left her husband Gregg Leakes' side since he began his fight against cancer last month. With constant updates from the reality TV wife, fans know that Gregg is in good hands and appears to be recovering well as latest photos of the slimmed-down real estate investor reveals.
The most recent photo from NeNe is one that undoubtedly uplifted her husband as it shows the couple surrounded by all their sons, proof of the kind of support Gregg is getting.
Nene stood in the middle of all six men including her husband Gregg who fashioned an L hand sign while surrounded by their sons. It was evident in Gregg's smile he was happy to be around family.
"This is the REAL show right here #lifeoftheleakes," Nene wrote in her caption before adding,
"#Gregg and i wit ALL our sons! All wit personalities and opinions! I'm the queen of this castle #4realtho"
Gregg and Nene share one son together, Brentt. However, each brought in sons into their marriage from their previous relationships. Gregg has four – Dexter, Daryl, Damian and Denton, while NeNe has one – Bryson.
It was only a few weeks back when Gregg and NeNe were at the doctor's office receiving the disappointing news of the 63-year-old's condition.
But with NeNe's determination to fight the disease, it's apparent Gregg is even more motivated to win the battle. A few days ago, Nene posted a photo of a trimmer Gregg basking under the sun as she updated her fans of his progress. She revealed they decided to employ a health and wellness program to assist in Gregg's treatment while thanking their fans for their support.
Gregg looked relaxed as he stood against the backdrop of an ocean matching the water in a blue printed shirt, a blue cap and a pair of jeans. Gregg looked up at the direction of the sky relishing the moment as fans offered him continued prayers and well wishes.
Here's more of Gregg and Nene's time together as Gregg recovers in pictures.
Please fill in your e-mail so we can share with you our top stories!