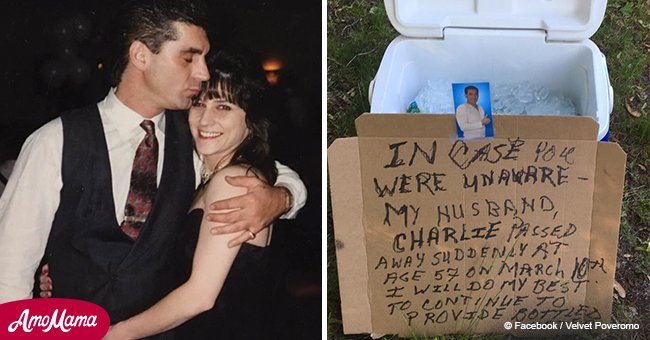 Widow continues husband's inspiring summer tradition of handing out water to workers
A New Jersey woman who had lost her husband earlier this year decided to keep her husband's community project going, and it is changing the country.
Velvet Povermo shared her story on Facebook and told netizens that she is trying to fill her Charlie's shoes since he passed, and even though it's overwhelming at times, it brings her joy.
Charlie started a tradition seven years when New Jersey was battered but a heat wave. Charlie saw a garbage truck pull up and noticed that the workers were struggling to in the heat.
Since then, he left a cooler out by the gate with a sign that the iced water in there can be taken as needed. Read more on our Twitter, @amomama_usa.
News spread and soon postal workers, municipal workers or anyone who was forced to be out working in that heat knew Charlie would keep them hydrated.
Charlie eventually expanded his 'menu' to include juices and snacks as well. When he passed away, Velvet left a note by the cooler box to inform his 'customers' of his passing and promised to do her best at keeping the tradition going.
In June, Velvet was outside in the garden restocking the cooler when the garbage truck pulled up. When the workers saw her, they wanted to show their appreciation for all she and Charlie had done for them.
'I turned to look, I watched in awe as each man stepped off the truck, the driver getting out to join them and in a straight line they stood together and saluted our home and me!'
Velvet Poveromo, Facebook, June 19, 2018.
Each one of them walked up to Velvet, grasped her hand and shared their condolences. No one had ever shown them such thoughtfulness before, and they appreciated everything Charlie did.
Charlies tradition soon went viral and ABC News report that citizens from the across the country are following in his footsteps and leaving a cooler outside for workers or walkers who are out in the brutal summer heat.
Please fill in your e-mail so we can share with you our top stories!