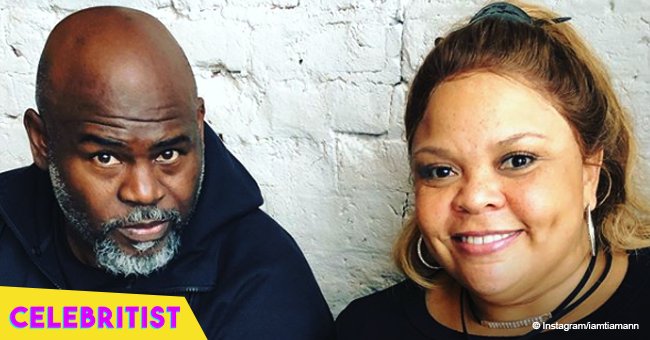 David and Tamela Mann's daughter Tia flaunts her curves in thigh split dress after major weight loss
The 28-year-old daughter of the gospel singers and actors is the youngest of their daughters, and has grown into a beautiful young woman over the years, and recently started to lose weight.
Tia Mann is the daughter of David and Tamela Mann, and as such is no stranger to the cameras and the spotlight. Her parents have shared plenty of photos of her, and she also has her own social media accounts where she documents her life.
Tia has gone on a weight loss journey in recent months and a recent photo she shared to her Instagram account highlights not only this, but also the beautiful curves she boasts on her body.
In the image, she smiled at the camera as she declared herself "wedding ready."
The photo, taken outdoors, saw Tia in a beautiful black dress. With a low-cut neckline and a high slit up her thigh, it hugged her waistline in the center with a diamante embellishment, showing off her voluptuous curves.
The slit in the dress also showed her thigh and foot tattoo. Tia left her wavy hair loose, and wore a delicate necklace. She has on a dark red lipstick, and a smoky eye makeup look.
Tia recently joined the cast of her parents' reality television show, The Manns, and has gotten used to her light in the spotlight since.
She makes regular use of her Instagram account to give her fans an insight into her daily life.
Two more images of herself that she shared in a multiple-image post looking relaxed and happy as she posed next to a tree and out on a pathway.
The first image showed her in an all-black outfit of a tight pencil skirt that fell just below her knee, and a shirt with a flared hemline and three-quarter length sheer sleeves. She wore a pair of strappy black heels to complete the look.
Tia's hair was done up in braids, and were hanging way past her knees as she was looking down. Her weight loss is evident in the image, particularly given that the outfit she is wearing is a tight fit.
Tia recently celebrated her 28th birthday, and spent the evening enjoying a special dinner with her parents to celebrate.
"Happy 28th birthday to our silly baby girl @iamtiamann," the gospel singers and actors captioned the post.
In the image, David and Tamela appear alongside Tia on an elegant night out. The three of them all decided to stick with the monchrome theme, with both Tia and Tamela wearing black dresses while David wore a black suit with a white shirt.
The photo also highlighted the resemblance between Tia and her mother, with the two sharing the same smile, nose, and eyes.
Please fill in your e-mail so we can share with you our top stories!