Blueberry lemon cake perfect for summer
Most Blueberry Lemon cakes are delicious yet refreshing deserts perfect for a warm summer day.
It consists of three layers of a blueberry buttery cakes with a delicate lemon flavor and a lemon swiss meringue buttercream in between the sections that can win over even the hardest diner.
By following this simple recipe found in Home Cooking Adventure, you could bake the perfect Blueberry Lemon Cake at home, primarily because there are not too many ingredients and all of them can be bought at any grocery store.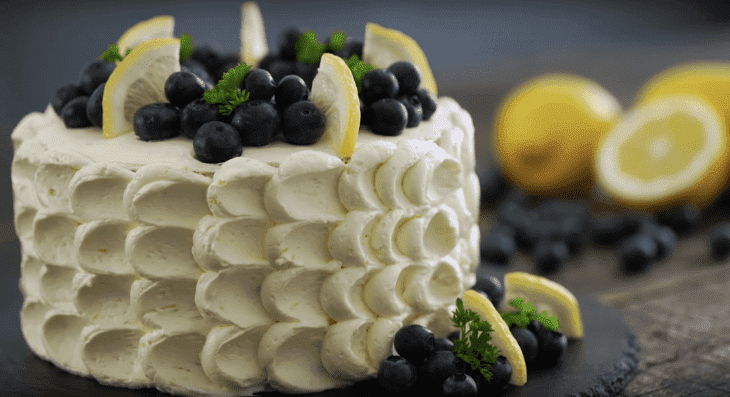 The ingredients for the cake are the following:
3/4 cup (170g) butter, room temperature,
1 cup (200g) sugar,
3 eggs,
1 tsp (5g) vanilla extract,
lemon zest from 2 lemons,
2 tbsp (30ml) lemon juice,
2 1/4 cups (280g) all-purpose flour,
2 tsp (8g) baking powder,
1/2 tsp (3g) salt,
2/3 cup (160g) buttermilk,
6 oz (170g) fresh blueberries,
1 tsp (5ml) oil for coating the blueberries, and
1 tbsp (10g) flour, for tossing the blueberries.
For the Lemon Swiss Meringue Buttercream, you'd need:
5 (about 170g) egg whites,
1 1/4 cup (250g) sugar,
1 1/2 cup (340g) unsalted butter, room temperature, cut in pieces,
lemon zest from 2 lemons,
1 tsp (5g) lemon extract, and
1 pinch salt.
After making sure that you have the exact measures, all that is left to do is:
1.    Prepare the blueberry cake layers. Preheat oven to 350F (180C). Grease and line with parchment paper three 7 inches (18 cm) round cake pans.
2.    In a bowl, whisk the flour with baking powder and salt; set aside until ready to use.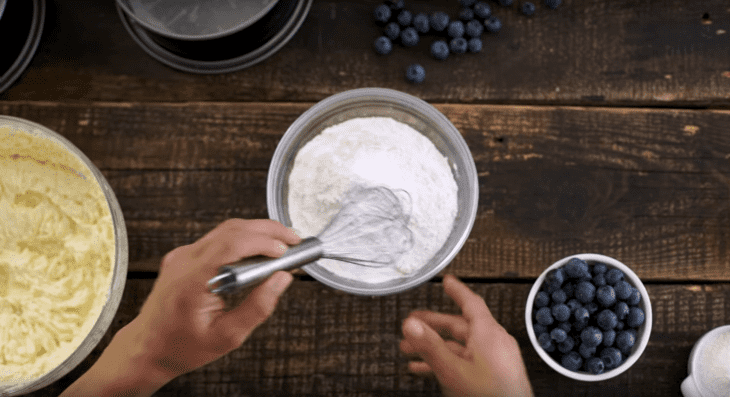 3.    In a large bowl, mix butter with sugar and lemon zest until creamy. Add eggs, one at a time, beating until incorporated.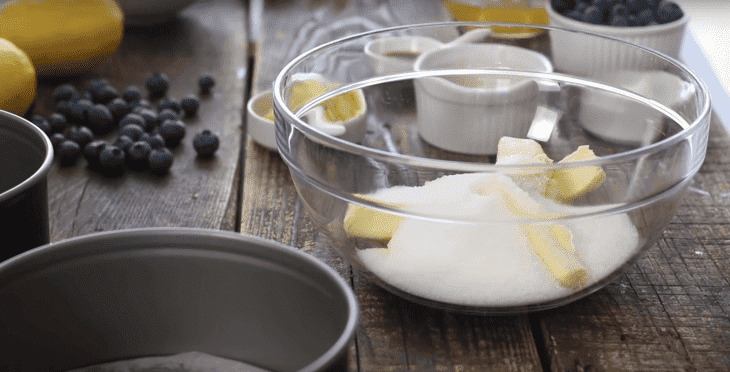 4.    Add vanilla and lemon juice and mix until well combined. Reduce speed to low alternate adding flour mixture and buttermilk until everything is incorporated.
5.    Place blueberries in a medium bowl, toss with 1 tsp of oil and 1 tbsp of flour.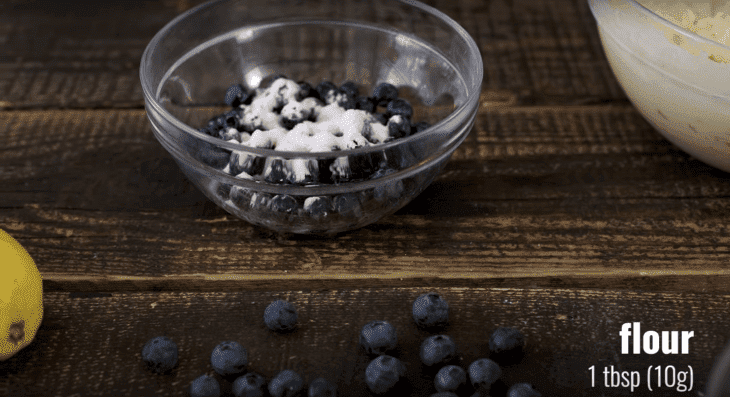 6.    Gently fold the blueberries into the batter, not too much as you don't want your batter to become blue. Only a few folds will be enough.
7.    Pour the batter evenly into the prepared pans.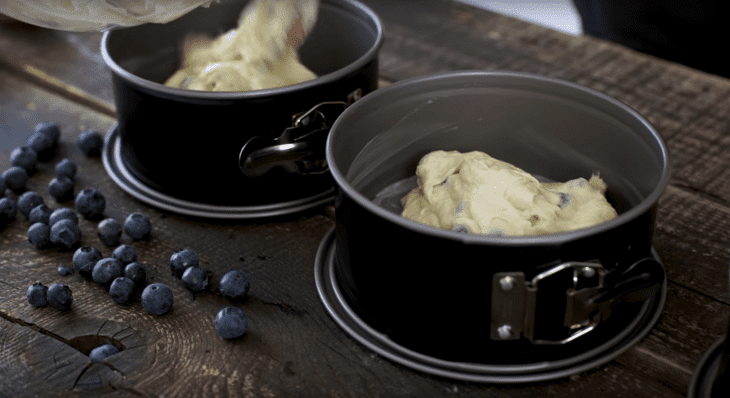 8.    Bake for about 30-35 minutes until a toothpick inserted into the center comes out clean.
9.    Let pans cool on a cooling rack for 10 minutes.
10.    Remove the cakes from the pan and let them cool completely.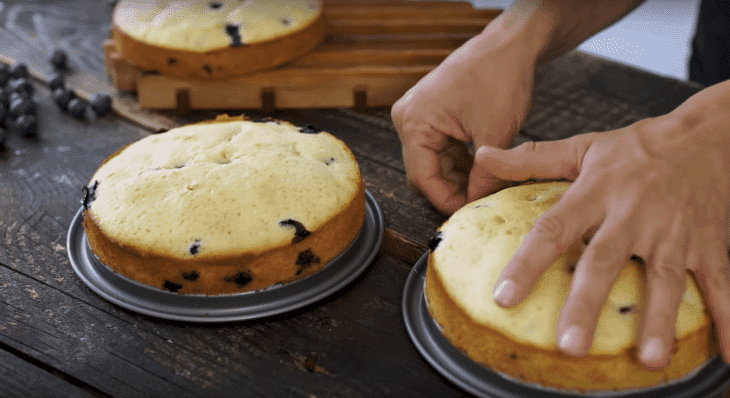 11.    Prepare the lemon swiss meringue buttercream. Place the whites, sugar, and salt in a heatproof bowl. Place over a pan with simmering water (bain-marie).
12.    Whisk constantly, for about 5 minutes, until it reaches 160F (71C).
13.    Remove from heat and transfer to another bowl.
14.    Start mixing on high speed for about 8-10 minutes, until glossy stiff peaks form. The mixture should be cooled before adding the butter.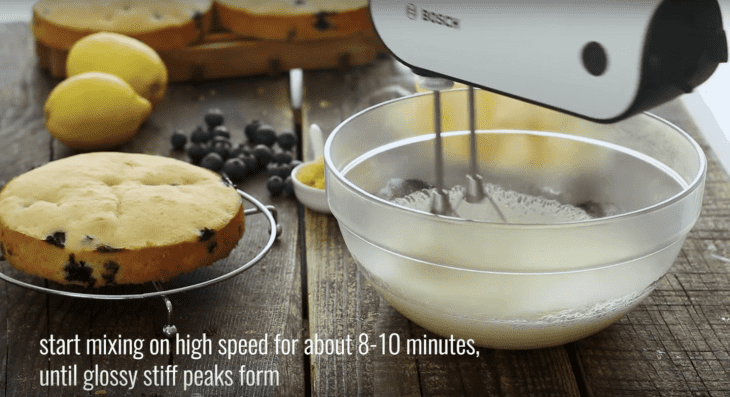 15.    With a mixer on low, gradually incorporate the butter. Make sure butter is at room temperature otherwise will be harder to incorporate. Mix until smooth. Add lemon zest and lemon extract and mix to combine.
16.    Assemble.  Cut the tops of the cakes to create flat surfaces. Place one cake layer on your serving plate. Spread evenly with about a cup of buttercream. Add the second layer of cake. Spread evenly with another cup of buttercream.  Add the last layer of cake. Spread a thin coat of frosting on top and sides of the cake.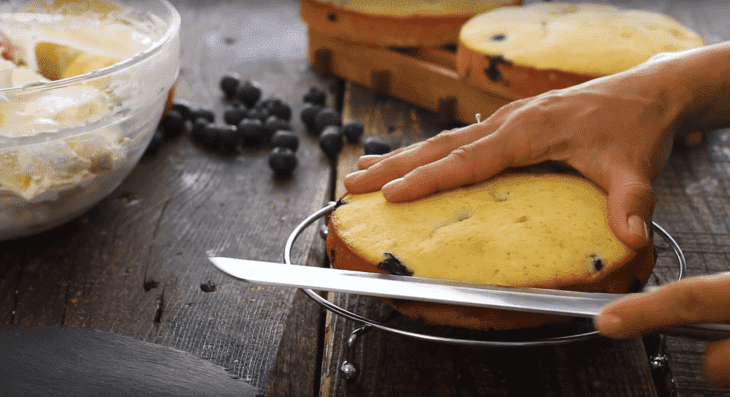 17.    Place the rest of buttercream into a piping bag fitted with a ½ inch (1cm) tip.
18.    Pipe about 4 vertical dots. Use a teaspoon to press and drag. Scrape the excess out of your spoon. Repeat until all the cake is decorated.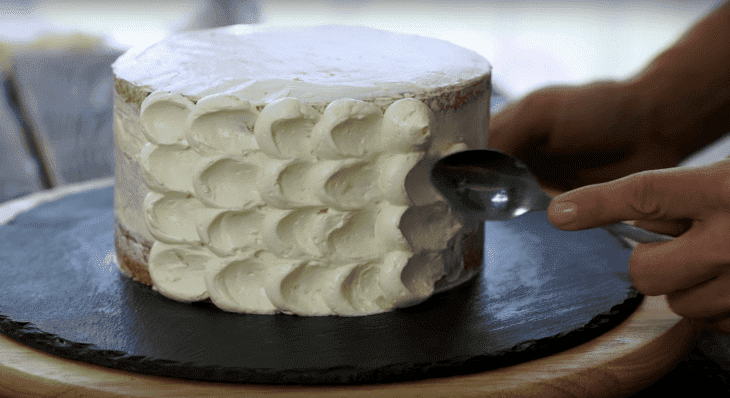 19.    Refrigerate the cake. Before serving, decorate with fresh blueberries and lemon slices and green leaves if desired.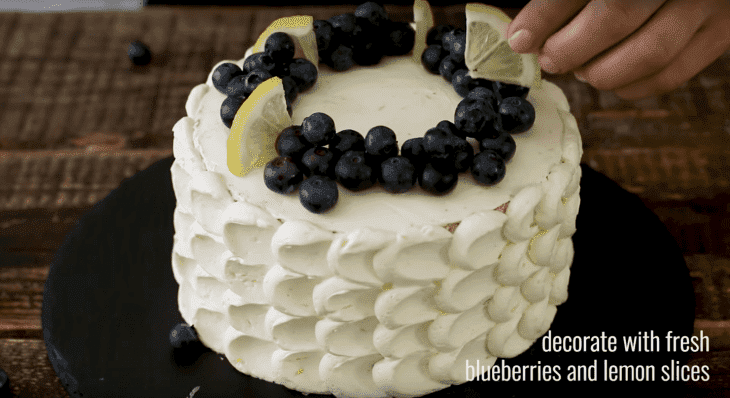 20.    Serve cake at room temperature and cut slices with a hot knife.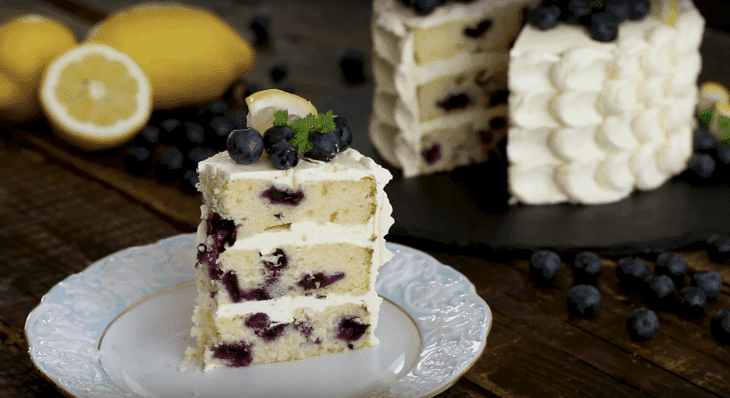 Here's a video that explains how to prepare the cake step by step.
If you followed the directions step by step, your Blueberry Lemon Cake not only should look wonderful, but it also is very likely to be delicious.