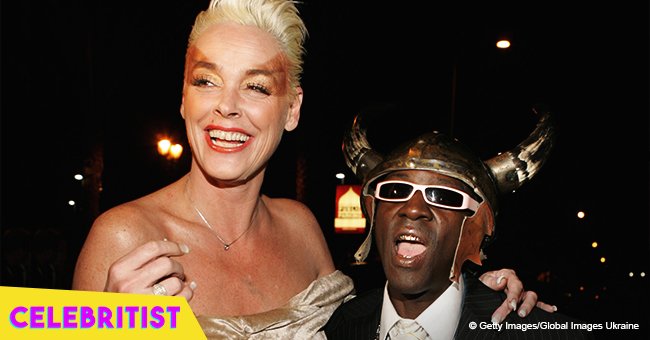 Rapper Flavor Flav's ex-wife gives birth at age 55

More than a decade after her publicized relationship with Flavor Flav, Brigitte Nielsen welcomes a baby girl at the age of 55. The actress recently opened up about the grueling journey of conceiving her fifth child and first with her husband 15 years her junior.
There was a time when rapper Flavor Flav and Brigitte Nielsen's relationship was heavily documented on VH1's 'Strange Love.' It was back in 2005 and it didn't last long. More than a decade later, the Danish model and actress has since remarried for the fifth time and just last month, welcomed her fifth child at the age of 55.
A photo of Brigitte on her Instagram account on June 28 featured the doting mom cuddling her newborn she shares with her husband of 12 years, Mattia Dessi. Having conceived her latest child in her 50's, the actress admitted to People it was a long and painful journey.
It took 10 gruelling years of in-vitro treatment according to the star before she finally got pregnant with her daughter, Frida.
"It is such a long road. What I want women to know is that everything is possible, but you have to be realistic."
Brigitte recalled freezing her eggs when she was 40, soon after meeting her husband who is 15 years her junior.
"If you don't want to use [donor] eggs, you have to preserve your own eggs at a reasonable age for there to be a possibility. I wouldn't even bother trying after age 42."
But despite the precautions she took early on, it was no guarantee that it would work revealing there was a very slim chance of conceiving and most of the time, there was disappointment.
"If you do IVF, 80 percent of the time, it doesn't work. It's that phone call going, 'It's negative.' It's the waiting. It's a lot. It's a big, big journey."
Another setback according to the five-time-mom is that the process of IVF is expensive.
"It doesn't come easy or cheap if you do it my way. I want people to know that."
It took a lot of learning and patience on Brigitte's part to finally come into terms with every disappointment she faced along with the isolation.
"I think at times you can feel lonely, because a lot of women don't talk to each other about it. We should hold hands because there's nothing wrong with wanting to have a baby whether you're 20, you're 30, you're 40 or, in my case, 50."
Brigitte's patience and determination paid off as she's now a mother to a healthy baby girl in the amazing age of 55. Her message to other moms is to "never give up" or think that they're ever too old to have a child.
Brigitte's daughter is her first, having given birth to four boys previously. Frida is also Mattia's first child, which makes her even more special. As Brigitte relishes her new moments as a mother, she says it's all worth it and feels lucky to have beaten the odds.
"I totally, totally beat the odds. There's a 3 to 4 percent chance of these things happening. Well, of course, this 3 to 4 percent does happen with somebody — and I was [that person]."
Please fill in your e-mail so we can share with you our top stories!