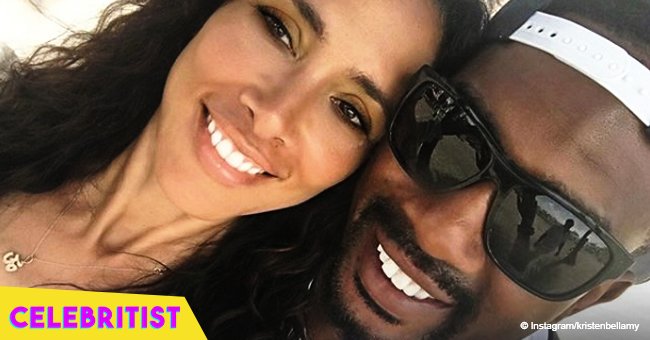 Comedian Bill Bellamy's wife shares photo of their grown-up son who looks a lot like dad

Bill Bellamy's son registers his father's features in a photo his mother shared celebrating his 12th birthday. The young man who completes their family of four smiles as his mother penned a touching message for him.
Bill Bellamy's son just turned a year older and his wife, Kristen Baker paid tribute to the young man recently.
Baron Bellamy, now 12, looked so much like his father in a photo his mother shared along with a special message for his birthday. He smiled for the camera as his mom swooped in from behind him for a kiss. In her message, Kristen revealed her feelings as her son turns another year older.
"Happy Birthday to our Baron I can't even believe you are 12 todayWhen you came into the world I just knew our family was complete. There are no words to express how much joy you bring me and so many people everyday. I love you and I am so proud of the young man you have become. My #heartandsoul [heart emoji] you #baronhudsonbellamy"
Bill also took to his Instagram to mark his son's birthday. He shared a photo of the two of them lounging outdoors and revealed the fun he has as a father to his only son.
"Today is my son Barons 12 th Birthday !!! So happy for my dude!! Growing so fast. It's been so much fun being a Dad to this lil guy!!!! Love you B!!!! Now get off of #fortnite please!! I'm so tired of this damn game!!!"
Baron is the second of Bill and Kristen's two children. Their eldest is daughter Bailey who's now 15.
Bill has always taken pride in being a father, a role he once described in 2014 as "amazing." The comedian that he is, he told BET he gave his children soap opera names so they would feel deserving of an iPhone when they're three years old even if that wasn't true. He also revealed he liked to refer to his children as AM and FM, noting their differences.
"With a boy and a girl, they are wired so differently; two different complete styles of people."
As a father, Bill shared it was the best thing that ever happened to him.
"Becoming a dad was the best thing that ever happened to me in my life. It gave me a sense of responsibility, love and accomplishment. It's been an amazing journey learning these two little new human children."
Bill also warns other dads,
"Whatever you do, good and bad, they are sponges and they will impersonate you. Trust me. They will say what you say, how you said it, in another embarrassing time."
Bill and Kristen have been married for 17 years. It's no surprise they've lasted this far considering Bill confessed in 2012 he's always put his family first before his career.
"I have to make time for my family. They are more important than my career because they give me the things that are invaluable that I could never have without them."
Please fill in your e-mail so we can share with you our top stories!