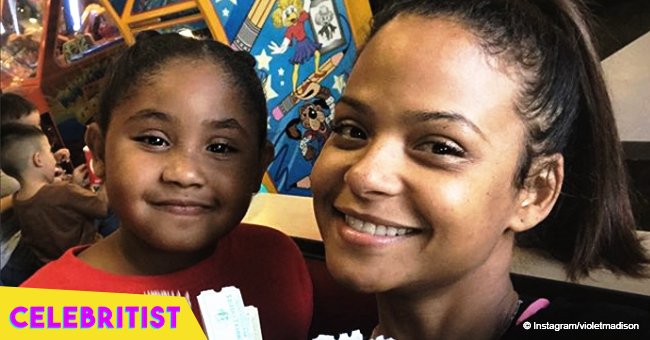 Christina Milian sparks debate over 8-year-old daughter's body after sharing photo
Actress and singer Christina Milian took to Instagram to share a slideshow of herself and her daughter Violet during a recent outing at the Vivo Beach Club.
In the first photo, uploaded on July 10, Christina and her daughter were portrayed walking holding hands wearing swim clothes. The singer chose a two-piece camo swimsuit, a matching skirt covering her bottom part, and beach sandals.
Her 8-year-old daughter was shown wearing a colorful one-piece bathing suit, orange and blue sandals, and orange sunglasses. In that photo, Christina was looking at her daughter while smiling.
For the second and final picture of the post, both ladies were looking front while walking in their beautiful swimsuits. One of the most striking aspects of the image was the resemblance both of them share.
The actress captioned her slideshow by writing: 'Walk it like I talk it - Walk it like I talk it. Aye!!! Make today ridiculously dope!' As soon as that slideshow was reported by The Shade Room's Instagram account, several people started sending backlash to Christina.
One of them was Instagram user @rideordiewithme1, who pointed out that she felt sad when mothers who put a lot of time and effort into looking good feed their children with 'garbage' all day, saying that Violet was overweight and 'dumpy looking.'
'The daughter will grow up feeling inadequate and depressed that her mother focused on her own beauty while her daughter was left to develop terrible eating habits which affected her weight negatively,' added the user.
Others, like @easily6, remarked that the girl's hair didn't look healthy probably because Christina wouldn't let it be natural.
However, there were more positive than negative comments on the post as users, including @jayycee924, who said that Violet didn't look dumpy but like a cute sweet child and that negative comments could help develop any issues about her body, not Christina letting Violet be a child.
Violet was born in 2010, when Christina and her ex-husband Terius Youngdell Nash, also known as The-Dream, were together.
Unfortunately for the family, Christina and The-Dream separated in late 2009, only three months after they got married. Their divorce finalized in October 2011.
Please fill in your e-mail so we can share with you our top stories!