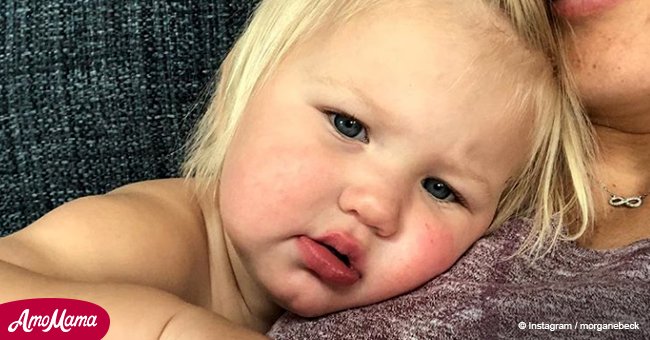 Bode Miller & wife break silence on daughter's death in first interview since tragedy
On Friday, Olympic alpine skier Bode Miller and his wife Morgan Beck Miller had their first interview since losing their child, Emeline. In June, the little girl died after drowning in a swimming pool.
During the Today interview held at their home, the pair opened up about losing their daughter. They also warned other parents about the dangers of drowning.
In June, Bode Miller, 40, and his wife Morgan Beck Miller lost their19-month-old daughter Emeline after she drowned in a backyard pool accident. Just five weeks later, the couple sat down with Savannah Guthrie at their home in California for an emotional talk about their loss.
"I can attest from firsthand experience now that it's unbelievably quick and it's unbelievably sneaky," said Miller on Today. He added that it happened in a blink of an eye.
For more on this story go to our Twitter account @amomama_usa. In the interview which airs in full on Monday's Today, the athlete's wife also had something to add.
"And it is literally — a child under 30 pounds can drown in 30 seconds. And I just keep counting to 30 in my head. That was all I needed."
Morgan Beck Miller, Today, July 30, 2018
She said, "And so, it's one of those things where, as a parent now, when you go to someone else's house, survey the home to see if it's a safe place for your child to be." On June 9, Emeline drowned in a pool at around 6:30 p.m. in Coto de Caza, California.
At the time, the Orange County Fire Department said paramedics rushed to the scene and performed CPR before transporting her to a nearby hospital. There she was unable to be resuscitated.
Her cause of death was classified as a drowning. Bode was not was present when the accidental drowning took place while his wife was just inside the home when their daughter went "missing for just a short amount of time."
After finding her, Morgan pulled her daughter out of the pool, and she and her friends started CPR before paramedics arrived. Orange County Fire Authority captain Steve Concialdi said the little girl's mother then "rode in the front of the ambulance to the hospital."
The Miller's married in 2012 and have a 3-year-old son, Nash Skan. Bode is also a father to two children from previous relationships: son Samuel, 5, and daughter Neesyn, 10.
Weeks before Emeline's death, the couple had announced on Instagram that they were expecting their third child together. GoFundMe and meal train accounts were set up for the family.
They've raised tens of thousands within days.
Please fill in your e-mail so we can share with you our top stories!