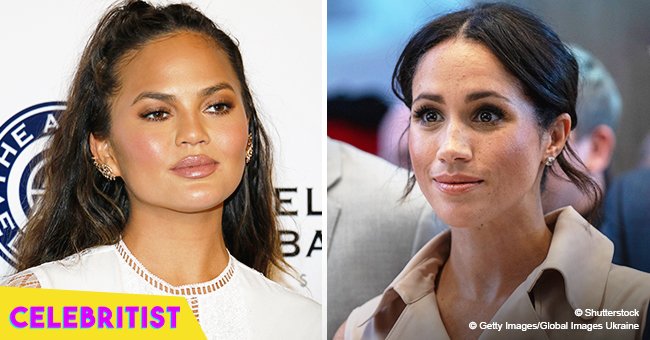 Chrissy Teigen blasts Meghan Markle's father after 'embarrassing' interview
The outspoken Twitter personality reacted to Thomas Markle's most recent interview, calling it "embarrassing".
As previously mentioned here on Celebritist, Meghan Markle's father gave yet another lengthy interview about how his daughter had abandoned him. He made the claim last weekend during an interview with The Mail on Sundays, saying his daughter had cut him off of her life, and the two of them have not spoken in ten weeks.
According to Markle Sr., the rift was caused by his constant appearance to the press, even going so far as to stage fake paparazzi photos before the Royal Wedding and speaking out on his defense.
"I'm really hurt that she's cut me off completely. I used to have a phone number and text number for her personal aides at the Palace, but after I said a few critical words about the Royal Family changing Meghan, they cut me off."
Thomas adds that the last time he spoke to the new Duke and Duchess of Sussex was to apologize for the staged photos, which they said was not necessary. However, after that conversation, the phone numbers given to him to keep himself connected with his daughter have been cut. Now, he has no means of contacting Meghan at all.
In his newest controversial interview, he reportedly spoke for almost nine hours in the span of three days just to explain how hurt he is about this long feud he has going on with his daughter. Thomas also claims that the Royal Family has obviously been trying to keep him out of the spotlight and away from the press, but he won't. During the interview, his emotions shifted constantly between sadness at the "loss" of his daughter" and anger at the "way he is being treated" by the palace.
Retired at 74-years-old, people would think he would silently watch his not-so-little girl live her best life as a princess, but that is not the case for Thomas who has constantly been opening up to the press about how he felt. This has caused some major outrage from people who are concerned about Meghan's welfare, that even fellow celebrities like Chrissy Teigen have had to react.
Everyone is waiting for the day Thomas Markle lets Meghan live the Royal life in peace without having to hear comments of her unhappiness or even changed ways, but for now we just have to wait and see until this happens.
Please fill in your e-mail so we can share with you our top stories!