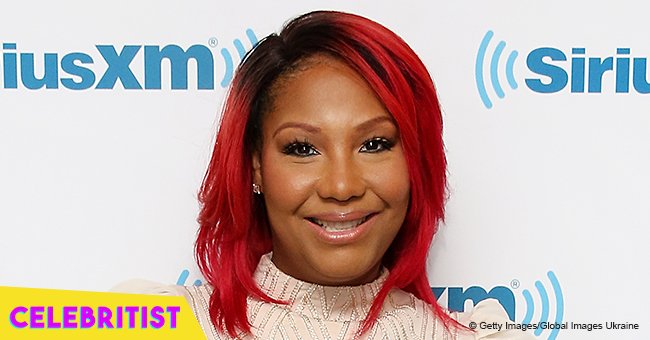 Traci Braxton, 46, shows off slimmer curves in figure-hugging top & distressed jeans in recent pic

Traci Braxton has been trying to lose weight for years, and the hard work she put in has been paying off as she shared a photo of herself looking slim as ever in a body-hugging ensemble.
The singer has been trying to fix all aspects of her life, not just that of her physical health. In a recent interview with The Grio, Traci shared that she has also been exerting a lot of effort to make sure that she keeps her marriage intact.
Braxton and her husband Kevin Surratt have been together for 28 long years. They have had their shares of ups and downs, even having to go through counseling and marriage boot camp as seen on Season 3 of "Marriage Boot Camp: Reality Stars".
However, despite their trials and challenges, their love eventually surpassed all and it was what kept them going through the years.
Sharing how they managed to stay together, she said:
"As long as you have love, anything can heal. Anything is possible. I have a limit. We argue, we will say hurtful things, but we would come to each other and say, 'I was wrong.'"
As to how she and Kevin have kept the fire burning between the two of them, Traci shared her secret that every couple both married and unmarried should take into consideration for a long-lasting and happy relationship:
"I'm dating my husband. We go out every week, we go to our favorite restaurant and we just sit there and talk and have conversations and just date each other. I have to make sure that, that spark is there. I gotta make sure the same way I got him, is the same way I gotta keep him and vice versa."
With her marriage, her career, and her health in the bag, Traci and her husband have been preparing for yet another milestone in their lives: their first grandchild. Now that their son Kevin Jr. and his partner Olivia Haaron have given birth to a son, the proud grandmother claims that being a "Duchess" is an amazing feeling.
Traci is best known for her music career that has spanned three decades, starting from a fivesome group with her siblings. When that did not end up the way they wanted it to, she began to live a quiet life out of the spotlight to take care of her child and her marriage with Kevin.
It was only in 2011 that she re-emerged to star in a reality TV show called "Braxton Family Values". Since then, her career started to rise and she continues to be an influential R&B musician up.
Please fill in your e-mail so we can share with you our top stories!