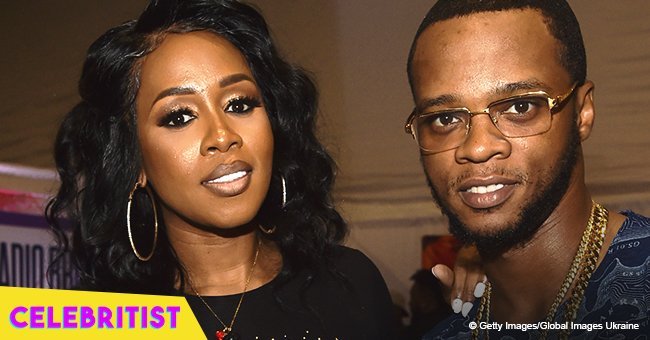 Remy Ma's husband Papoose shares update about their 'golden child' in heartwarming pic
"Pregnancy Police" Papoose excitedly shares an important update about his unborn child with wife Remy Ma. The ecstatic father-to-be's news comes days before he insanely displayed his affection towards his baby during a doctor's visit.
Remy Ma has just branded her husband Papoose the "Pregnancy Police" and she has every reason to do so. She pointed out that fact during a recent doctor's visit where his overly excited husband/father-to-be showed how overly excited he was. Days prior, Papoose who's been keeping track of his wife's pregnancy shared this important update to his fans.
"My wife just felt the baby move."
Captioning the text post with the hashtag "goldenchild", it's clear Papoose will be welcoming their baby like a king.
The expectant parents were at the doctor's office a few days later getting an ultrasound and took it upon themselves to update their fans of what transpired there. Remy first revealed she was prescribed to drink apple juice so the baby could turn over. She explains the sugar rush her baby gets from the juice is supposed to assist in the baby turning.
Meanwhile, Remy also gave fans a peek at her husband's insanity when it comes to their unborn child. She continues,
"In the mean time in between she [the doctor] printed out some sonogram pictures so that this maniac aka the pregnancy police aka Papoose could look at it. Look at ya mans"
To show her fans what she was talking about during her live Instagram update, she turns the camera to her husband who's holding on to a long printout of sonogram photos. The proud father was kissing each of the photos to his wife's amusement. See how insanely affectionate Papoose can get when it comes to his child below.
The couple announced their pregnancy right before the 4thof July during their renewal of vows for their 10th wedding anniversary. As this is their first child together, the excitement abounds. Though both have a child each from their previous relationships, it took a while for them to conceive this one. Remy struggled with infertility issues and even suffered a miscarriage due to an ectopic pregnancy in 2017.
Please fill in your e-mail so we can share with you our top stories!