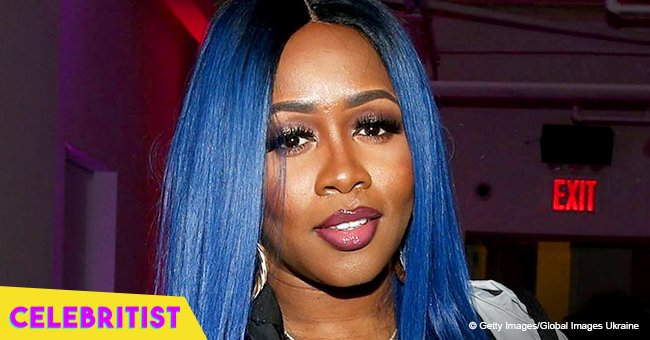 Remy Ma shows off curves in tight jeans and unbuttoned white shirt while 5 months pregnant

After announcing her pregnancy right after she and her husband Papoose renewed their wedding vows, Remy Ma showed off her growing baby bump in a photo she posted on Instagram.
Earlier this month, it was revealed that Remy and Papoose actually had a lot to celebrate. After the rappers walked down the aisle to renew their wedding vows, they enthusiastically revealed that the reason they gathered all their loved ones together was not just for that occasion, but to let them know that they were expecting a child.
According to E! News, Remy Ma was the one to break the good news to those who attended their ceremony, saying:
"And although we told you all guys we were bringing you out here to renew our vows, which we are, we also wanted all of our family here when we told you guys…"
After some suspense, Papoose continued what Remy had to say by touching his bride's belly and exclaiming "We're going to have a baby!".
At the time, the singer's Instagram post shared that she was actually four months pregnant.
"I've been eating right, working out, and preparing for this for almost a year. We are so happy; thank you to everyone that prayed for us and sent blessings our way"
Now, however, she gave a more recent update, showing off her body 5-months in, despite not looking pregnant at all. In the photo, Remy sported a blue, white, and gold printed long-sleeved top, which was unbuttoned all the way down to her chest area, showing off her bra. To pair her stylish top, she wore stretchy blue jeans that covered up her pregnant belly.
"I want some French toast (You are probably thinking,"what does that have to do with this picture?"...EVERYTHING- that's what I was thinking as I took it"
Pregnancy has evidently taken a toll on Remy, however, as she shared her craving for French toast in the post's caption.
While both Remy and Papoose have children from previous relationships, this is their first child together after the singer suffered a miscarriage due to an ectopic pregnancy in early 2017. Now that they are finally going to become parents together, the couple cannot contain their joy.
Please fill in your e-mail so we can share with you our top stories!