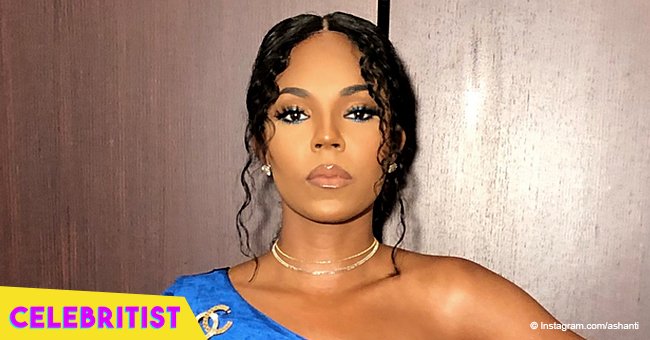 Ashanti flashes major legs in matching tied croptop & maxi skirt in pics
Ashanti has been a fashion icon since the early 2000's, and almost two decades later, she continues to sport the most fashionable outfits that some only dream of pulling off.
While the R&B princess sported bikini tops as part of casual outfits and snakeskin mini-skirts with fedoras, feather boas, and fur on a normal day back in the early 2000's, she has shifted towards more casual and laid back outfits now that she has gotten a bit older.
The Grammy Award-winning actress might have been known for her eccentric style, but this doesn't mean she has totally lost her sense of style as she got older. In a series of photos she posted on Instagram, the lovely singer sported a knotted crop top that showed off her flat midriff. To match the top, she wore some baggy culottes with thigh-high slits that showcased the singer's legs.
To add a splash of luxury to her outfit, she sported a pair of Gucci sneakers, a Chanel belt bag, and a pair of mirrored sunglasses.
Ashanti made sure to motivate her followers with a caption that hopes to inspire them to be confident with who they are, saying:
"Nothing is better than being comfortable in your own skin..."
In hopes of reviving her career, XXL reports that Ashanti is currently working on a joint album with Ja Rule. This legendary R&B duo might have been quiet in the past few years, but they are definitely staging a comeback.
Speaking to Entertainment Tonight at the 2018 BET Awards last June, Ashanti revealed that she and Ja Rule have been thinking about creating a joint album for quite some time, but they only felt the moment was right now.
"Listen, me and Rule, it's so funny because we've been talking about that for so long, but I think now he's like, 'OK, now it's time to do it.'"
The Carters might have the number 2 top album right now, but they better watch out for Ashanti and Ja Rule any time soon!
Please fill in your e-mail so we can share with you our top stories!