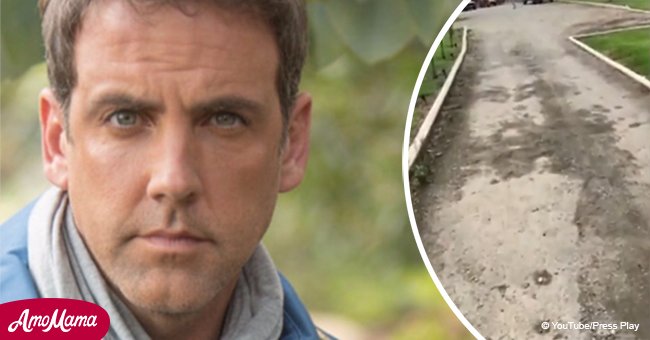 Puerto Rican star claims he saw Jesus' face on a driveway (photo)
A Puerto Rican actor and singer, Carlos Ponce, saw an image of Jesus' face on the pavement and shared his experience on social media.
Ponce took to Instagram to share the image he found on the driveway of a movie set in Colombia.
The video he showed the pavement on which, he claimed, was an image like that of Jesus Christ's face.
Read more on our Twitter account @amomama_usa.
The video was first shared on his account @poncecarlos1 on July 30, 2018, with his 1.8-million followers.
Ponce was on set in Colombia, filming for a new movie, when the actor was tipped off by a fellow actor Jason Day.
His Instagram account has quite a few fascinating and unusual videos and photographs. He seemed taken aback by what he had seen.
"When I saw it again, I saw it clearly. I took it as a reminder that Jesus is always with me. What do you think?"
Carlos Ponce, Instagram, July 30, 2018.
Fans flooded the 45-year-old actor's post with comments with many surprised by the clarity of the image on the road.
One user, maasi20, wrote, "Incredible! It looks clear. What a blessing. Whoever had God isn't missing anything. God is enough. Amen.'
Another user, @luzechever, said that the perfectly clear image was "a divine sign."
However, there were a few who didn't see Jesus Christ in the pavement at all. A user, @denissaur's "Am I the only one that saw Kanye too," was one of the comments from those who disagreed with the claim.
Another follower, @papoboricua claimed to have seen Marco Antonio Solis, the iconic five-time Latin Grammy Mexican musician, who has his name etched into a star in the Hollywood Walk of Fame.
Ponce has appeared in Hollywood movies such as "Couples Retreat," "Deuce Bigalow: European Gigalow," and "Just My Luck." He has also hosted the Miss Universe 2006 pageant.
The actor, who began his career in Spanish soap operas, attended South Miami High School in Miami, Florida. He was an active member of the drama department and graduated in 1990, according to IMBD.
He married photographer Veronica Rubio and have four children, Giancarlo, Sebastian, and twins Savannah and Sienna. The couple divorced in 2010.
Please fill in your e-mail so we can share with you our top stories!