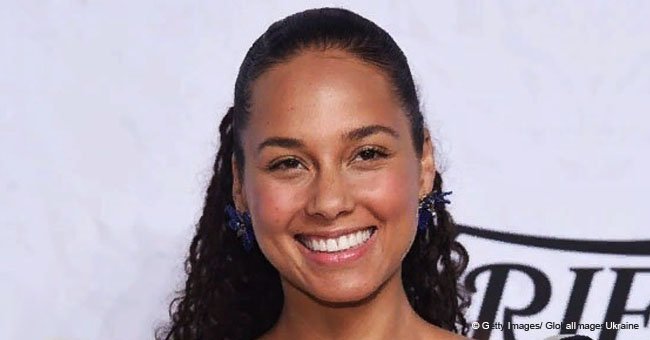 Alicia Keys and her grandma look so much alike in heart-melting pictures
- Celebritist got heartwarming pictures of Alicia Keys and her grandma on Instagram as she remembered her during the International Women's Day celebration.
- The multiple-talented singer took us on a trip down memory lane as she praised her late grandma's achievements.
- It is no wonder how this phenomenal woman has turned out seeing that she had a superwoman to look up to and who taught her the important values of life.
This year's International Women's Day was quite a memorable one - the day rolled by in bright colors with nearly everyone celebrating the amazing women in their lives.
For philanthropist, actress, musician and multiple-award winner Alicia Keys, she held nothing back as she celebrated a woman who has obviously left a major imprint in her life.
Stopping hearts with two lovely pictures of her grandma, she revealed how she had to beg for them to be taken.
She wrote a very long 'essay-ey' caption beneath the pictures, telling stories of how her grandma changed lives over the years, including hers
According to Alicia, her grandmother was a beautiful soul and she managed to infuse that soul inside of the singer as she greatly influenced her life.
Nana, as Alicia referred to her, had struggled to do right by herself as a single mom and had also stood by her husband through thick and thin, even with adopted twin children.
Alicia shared that Nana had taught her all the things she knew: how to be gentle and tough, demand respect and never choose to be inferior.
She went on to reveal that both her Nana and her mom had made her realize from the day she was born that she was not any less capable or less intelligent for being a woman.
And they taught her that intelligence is power and female education was just as important as a man's, hence the constant encouragement to study hard.
Well, it is obvious that Nana certainly did a very great job on Alicia and all these can be seen in the things she stands for.
Alicia has been quite the human rights activist over the years, going to great lengths to help the underprivileged as much as possible.
She has been vocal in fighting for women's rights and it is wonderful to see that this fighting spirit is the result of her Nana's influence.
Indeed, we join Alicia in celebrating such a phenomenal woman.
Do you think Alicia's nana is serving goals?
Let us know in your comments below.
Please fill in your e-mail so we can share with you our top stories!