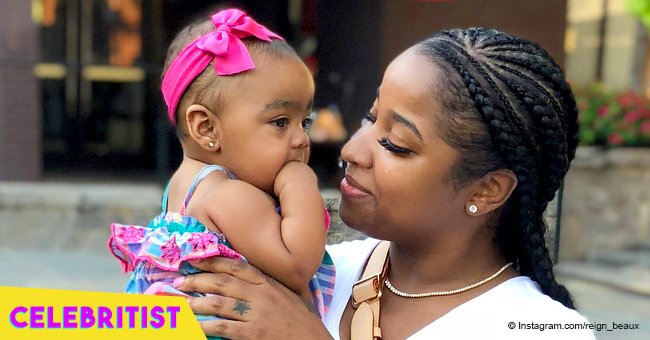 Toya Wright's daughter baby Reign is 'living her life' in miniature red & white swimsuit in pics

TV personality and businesswoman Toya Wright, best known for the show Tiny and Toya, took to Instagram to share beautiful photos of her baby daughter.
The first one in the slideshow portrayed baby Reign wearing a red, white, and green swimsuit, a matching headband, and red sunglasses. She was laying on a striped red and white towel that was placed on the "sand" of a beach.
Next to the baby, there was a pair of flip-flops, a bottle of sunscreen, and a colorful beach ball. A "palm tree" and the "ocean" were even visible in the photo. For the second picture, Reign was shown wearing a yellow and white polka-dot bikini.
Apart from that, she got a similar headband on and yellow sunglasses. In that photo, the baby was sitting on a striped yellow and white towel while looking up at the camera.
Even though the images were beautiful, the baby was not actually at the beach. The "sand" was, in fact, a long beige blanket that looked exactly like sand. The palm tree and water were also made with towels and blankets.
In the caption, Toya wrote: "What better way to end your weekend... Milk-a-Rita and beach vibes." As soon as the celebrity uploaded that photo, her fans and followers took to the comment section to share their thoughts.
One of them was Instagram user @lovemedree_, who pointed out that the image was very cute and that Reign was the coolest baby. User Deirdre Gibbs chimed in and said that she loved how creative the photoshoot was.
Those were not the only images of that session shared on Instagram. Toya uploaded one portraying Reign wearing the red swimsuit sitting on the red and white towel while looking up at the camera on the baby's Instagram account.
While most of the users who shared their thoughts on Toya and Reign's Instagram account agreed that the baby was beautiful, other people have been claiming that Reign was "ugly."
Tiny Harris, a member of the Xscape group, uploaded a photo on her Instagram account showing herself holding Reign in her arms. Some spiteful followers said that the baby was not cute at all.
Toya's eldest daughter, Reginae Carter, defended her little sister admitting that she was just a baby who couldn't even say "shut up," suggesting that people should grow up.
Please fill in your e-mail so we can share with you our top stories!