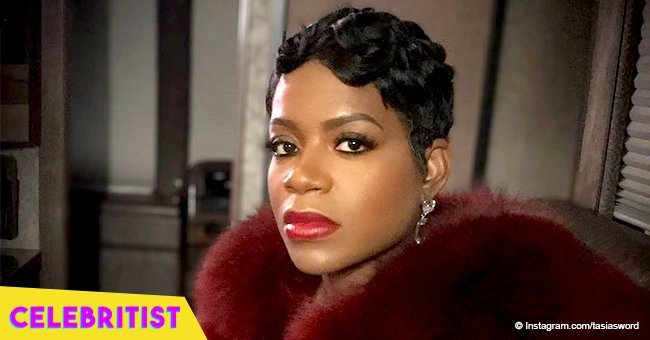 Fantasia stuns in black sequined mini dress, showing off her curvaceous thighs in new photo

Fantasia Barrino is no stranger to putting her best foot forward in Instagram photos, and in this recent snap, she's giving her fans and followers something new to drool over. The 2004 winner of American Idol channeled her inner melanin shine as she flaunted her thighs in a black sequined mini dress.
The singer's dress featured a leotard-style cut, fringe detailing out front, dramatic bell sleeves, and a low-cut neck showing off side cleavage. She styled the outfit with black earrings, a tiny bracelet, and black fashion boots, finishing off the look with what appears to be a pixie cut hairstyle.
Her fans and followers showed up in the comments section with raving reviews. One excited user @mik4608 commented: "Do you have insurance on them pretty legs...best leg award coming soon".
Another obvious fan @darquechaklit gushed: "@tasiasword I just need to know what the hell my sis eating!? Girl you looking like an entire freakin 5star buffet! #NoHomo cause I'm as straight as an arrow but if I can get my body like that, I'd be good! Not to mention the voice! You go girl!"
Instagram user @aidens_mommie26 said: "@tasiasword when u dropping that song u wrote for ur husband on iTunes #MyNewFavAlready", referring to the special song Barrino recently made for her husband in celebration of their 4th wedding anniversary.
Barrino has never been one to shy from flaunting her husband, Kendall Taylor who she married after a series of disastrous relationships that left her with two children from two different men. At the time her husband came into her life, she had given up on relationships and decided to stay devoted to herself. Taylor, who is the COO of a local courier company, however, proved different and the couple eventually tied the knot in 2015.
The talented songstress, who became a single mother at the age of 19, once said of her husband: "This Man.. God made him just for Me and me Just For Him.. This Man.. Covers and prays for me and my children EVERY morning.. This Man.. Loves My Father in Heaven and his name is God.. This Man allows me to just be a woman.. No more Hurt because King Kendall will never let that happen.. I'm off to just kiss, Hug and play in some water with This Man.. Look at Him in the pic YEP!! HE COVERS ME.. Be Happy with me you guys cause I've been thru SOOOOO much. Some stuff was my wrong decisions but all I ever really wanted was this.. Real Love. This Man and this smile is real. Later you guys bye bye for a while.. God did not forget about me [sic]"
As one of her fans commented, Barrino does look like she's living her best life in this new photo.
Please fill in your e-mail so we can share with you our top stories!