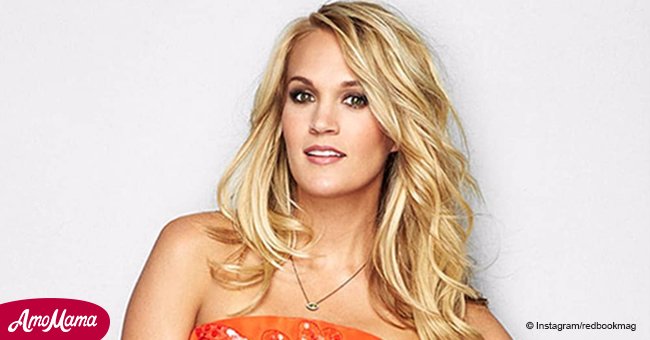 Carrie Underwood receives overwhelming support from fans after being bashed by the media
The 35-year-old singer and songwriter, Carrie Underwood, angered readers with a recent comment but her fans were quick to rally behind her.
Underwood said in the latest issue of "Redbook" - which will be available in stores from September - that she missed her chance to have another baby. Sadly, her words were twisted.
While many took her statement to mean that women in their mid-thirties or older cannot have children, a Twitter user known an SJ Floyd said she was merely "expressing what is right" for her.
Read more about Underwood's family and career on our Twitter, @amomama_usa.
Floyd added that readers shouldn't be so sensitive, and said not everyone wants to be raising a teenager when they are approaching their fifties or sixties.
A user known only as Caroline wanted to know why Underwood was even receiving all the negative press in the first place. She added:
"You aren't her doctor; you don't know if she has a medical condition that makes it hard for her to have kids."
Robby succinctly pointed out that all those who took issue with Underwood's statement is "part of the problem." He added:
"I'm trying to have a kid at 43, and I don't mind what she said"
Christina Taft said merely showcasing the negative comments without the positive is not reporting.
Dwayne Todd said Underwood wasn't "writing a fertility column offering advice," she was only speaking from a personal point of view, and that should be respected.
Sadly, many have misconstrued Underwood's personal experience and saw it as a statement that all women above 35 cannot have children.
While some netizens believe that her comments are "discouraging" towards women who are trying to conceive, others pointed out that her comment wasn't medically accurate.
Please fill in your e-mail so we can share with you our top stories!