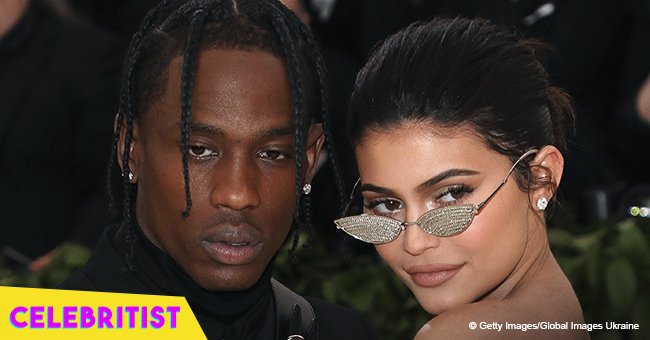 Kylie Jenner's boyfriend Travis Scott shares his first pic of daughter in his pint-sized merch
Rapper Travis Scott, who has been in a relationship with Kylie Jenner for a while took to Instagram to share a photo of the couple's daughter, Stormi Webster.
In the black-and-white image, the baby was portrayed sitting wearing a shirt that read Astro World while playing with several toys that were scattered around her. Astroworld is the name of Travis' latest album.
One of the most remarkable aspects of the picture was that the baby's face was almost completely out of frame. For the caption, Travis wrote: "Come home my baby ready to rock and roll," revealing that he cannot wait for being next to his daughter.
As soon as that post was uploaded, the rapper's fans and followers took to the comment section to share their thoughts.
One of them was Instagram user @pygmalio443, who pointed out that people could feel the love just by looking at the photo. Jazmin Duque chimed in and said that Stormi was cute and cubby.
According to BET, that image was the first post that Travis shared showing his baby on social media and that he probably did it as a way to promote his latest album released on August 3.
Kylie also took to Instagram to share a slideshow of herself wearing an Astroworld shirt. BET added that the 26-year-old rapper recently released a 28-piece collection of tour merch that is available for only 24 hours.
Removing Stormi's photos from social media
In June this year, Kylie decided to delete most of the images that showed her daughter from Instagram as she had been getting negative comments and threats from several users, reported Radar Online.
Travis reportedly asked her girlfriend to do so as they didn't know what people could be capable of and he didn't want Stormi "on the show."
Kylie allegedly upped her security on her entire family and home and decided that she wouldn't "parade her baby around like an accessory anymore."
Please fill in your e-mail so we can share with you our top stories!