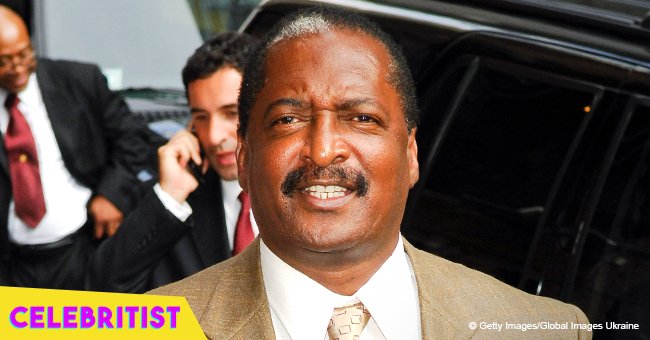 Mathew Knowles' secret daughter rocks long, purple braids in recent pictures at the beach
She may have first graced the limelight as the controversial secret daughter of Matthew Knowles, but this little girl is clearly making waves not just in her latest snaps at the beach but as a talented singer much like her half-siblings.
Koi Knowles first came into people's attention in 2010 when her mother, Taqoya Branscomb claimed Matthew Knowles, Beyonce and Solange's father was Koi's as well. Matthew first denied this but a DNA test proved he was the father despite previously telling Branscomb he had a vasectomy. A lawsuit for child support followed thereafter.
At the time, Matthew was still married to Beyonce and Solange's mother, Tina Knowles who also discovered shortly after that her husband of 31 years had also fathered a son with actress Alexcsandra Wright. This ultimately led to their divorce in 2011.
Now 8 years old, Koi is gaining quite a following on her Instagram, not only for the adorable photos she posts but because she too, like her half-sisters, can sing and dance. In May, she shared a clip displaying her talents as the star of 'Wizard of Oz' at her school. In the clip she shared, she clearly has what it takes to follow into the footsteps of her older sisters.
Meanwhile, Koi is making the most of her summer as a couple of her posts puts her at the beach. She rocks long, purple braids as she gears up for some boogie boarding. She also shows off her fringed bikini as she gets some action under the sun.
When Koi turned eight in July, she celebrated with a photoshoot where she dons several cute outfits wears slight make-up.
"Loving, sweet, smart, and sassy... cool, bossy, strong, and beautiful...artistic, creative, talented, and silly! Overall a joy to be around, we love you Koi!", her mother described her in the caption for one of the images."
It's not clear if Kai has a relationship with her father who's now married to model Gena Charmaine Avery. The couple tied the knot in 2013 in Houston, Texas. Meanwhile, Tina moved on and married Richard Lawson in 2015. Unlike their father's wedding which they skipped, Beyonce and Solange were present during their mother's nuptials.
Please fill in your e-mail so we can share with you our top stories!