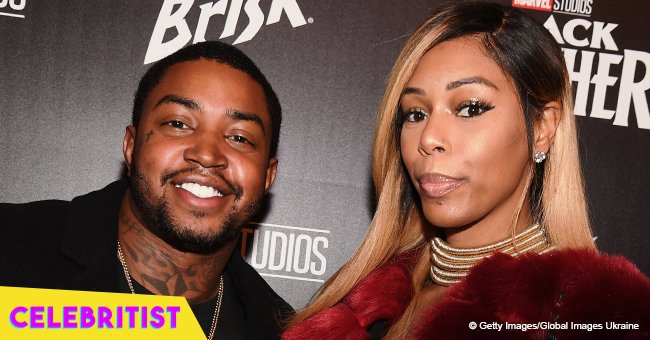 Bambi flaunts baby bump in flowy red outfit in recent picture with husband Lil Scrappy
Reality star Bambi Benson took to Instagram to share a photo of herself and her big baby bump next to her husband, Lil Scrappy, during a "Malaysian Night."
In the picture, Bambi was wearing a loose, long, red skirt and a matching top. The part of the belly was uncovered, and it was the highlight of the post as Scrappy was placing his hand on it while smiling at the camera.
The rapper opted for a white, yellow, and black shirt and black pants. In the caption, Bambi revealed that she and her husband found a place where she could eat and sit around with her belly out and explained that their outfits were selected for a Malaysia Night.
As soon as that photo was uploaded, her fans and followers took to the comment section to share their thoughts.
One of them was Instagram user @khunnid4lyfe who pointed out that Bambi was glowing and that they were glad that she and Scrappy were together as they are a beautiful couple.
BAMBI AND SCRAPPY'S LOVE STORY
Even though they were stars in two different VH1 reality shows – Scrappy in "Love & Hip-Hop" and Bambi in "Basketball Wives: Los Angeles" – they found love together and, by May 2016, the pair was engaged already.
In October 2017, Bambi went to "Sister Circle TV" for an interview, and she revealed that she and Scrappy were married already, a fact that surprised many people as they hadn't talked or posted photos about it before that.
Bambi confessed that it wasn't like they tried to hide it as they wanted something private, just between the couple. After that, the pregnancy was revealed in the mid-season trailer for "L&HH:A" when Scrappy told his mother that Bambi was expecting.
In a photo that the mother-to-be shared on Instagram, she confessed that her pregnancy had been a struggle, referring to how sick she had been feeling. She finally admitted that she was not slaying the pregnancy as the pregnancy was slaying her.
While neither Bambi nor Scrappy has said anything about the date their baby boy would be born, the couple revealed that she was 20 weeks pregnant in April, which means that the child could be delivered in late August or early September.
The reason they took so long to reveal the baby news was that they experienced a miscarriage in the past, so they wanted to make sure everything was okay before announcing it.
Please fill in your e-mail so we can share with you our top stories!