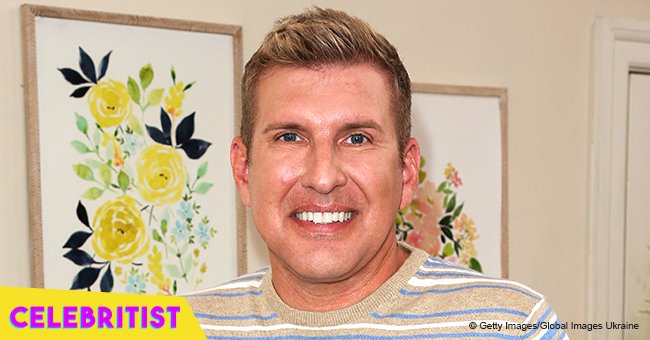 Todd Chrisley melts hearts with photo of biracial granddaughter in pink bow and T-shirt
The real estate mogul and reality star shared a new pic of his adorable 5-year-old granddaughter, Chloe, who has been stealing hearts left and right among fans of the E! show "Chrisley Knows Best" with her sassy attitude and bright smile.
Todd Chrisley is a proud grandfather, and he's not afraid to show it off. The father of five grown-up children has been enjoying fatherhood once again since little Chloe came into his life when she was only 6-months-old.
Chloe is the daughter of Kyle, Todd's son, and a woman named Angela Johnson, who asked Chrisley and his wife Julie to take care of the girl so she could have a better life. Kyle, a diagnosed bipolar individual, was not in the condition to take care of his daughter as he was battling substance abuse when she was born.
Todd and the rest of the family stepped in, and now he and Julie have Chloe's custody. The adorable little girl is growing up to become a beautiful lady, and in a recent pic shared by Chrisley on Instagram, she's rocking a pink bow and a pink top as she poses in the middle of some Styrofoam colored cubes.
"How cute is our precious Chloe? I love this baby beyond words.." Todd captioned the picture.
Fans immediately took to his comment section to share their thoughts on the photo.
User @amydelagatza wrote:
"She is very beautiful and blessed to have u and Julie in her life,"
and @washburnkimberly added:
"Such a beautiful little girl. Fits right in with your beautiful family."
Earlier this year, Chrisley opened up to People about what having Chloe in the family has meant for them. "I say, 'God gives you what you never knew you needed,' and we needed that. She has literally changed our lives in so many different ways," he said. "She's opened our mind to so many things that we didn't even know existed."
When asked what those things were specifically, the 49-year-old said:
"We had never dealt with racism. We have learned that it's a very prevalent situation in this country. We learned that, unfortunately, the hard way with negative things that were said about her on social media."
"We made a conscious decision that she is our child, she is our family member, and we're not going to be a part of anything that's going to cause her to feel less than."
Of the girl's relationship with her father, Todd explained that they're working on it. Kyle is doing better these days, working and keeping himself out of the spotlight, so Chrisley hopes his relationship with Chloe can start to flourish at some point.
For now, Chloe is seen on "Chrisley Knows Best" and also on her grandfather's social media, where she's featured continuously.
Please fill in your e-mail so we can share with you our top stories!