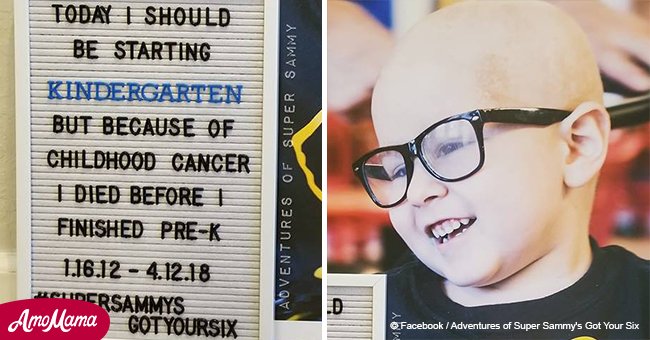 Grieving mom of little cancer patient shares heartbreak over son's death
Sammy was diagnosed with medulloblastoma, a form of pediatric brain cancer on October 19, 2016, when he was four years old; he was an autistic child and had plans of attending preschool for three years before he enrolled for Kindergarten.
His mother Kristen Puma shared the story of her son Sammy, who spent 246 days in the hospital getting treated for cancer before being discharged, on Love What Matters.
When Sammy began vomiting and had balance concerns, his mother took him to the ER, and after running a few tests, doctors confirmed to his family that Sammy had brain cancer.
The little boy went through an intense 10-hour-long operation to remove the tumor on October 21, 2017. Though doctors were able to extract the tumor, the surgery resulted in posterior fossa syndrome, which led Sammy to lose almost all of his physical abilities.
Post his surgery, Sammy was not able to walk or speak, control his movements, hold his head up, swallow or chew food.
Gradually he did make some improvements, but never completely recovered.
Sammy then had to endure five rounds of high dose chemotherapy called Headstart III protocol after which he underwent a bone marrow transplant to help his body recover from the treatment.
The little one then spent a month in rehab to recuperate from posterior fossa syndrome and also worked on the skills that he had lost after his surgery. While in the rehabilitation center, his treatment scan showed no further issues and he was eventually discharged on June 22, 2017.
His mother wrote that Sammy encountered several challenges after he was back home, but the family was delighted to have him at home again.
Sammy's week included more than 10 hours of therapy. He had to use a wheelchair to start walking again. Other problems that Sammy faced after his chemo treatment were a mild loss in hearing and problems in his vision.
He fell quite sick again and was taken to the hospital on September 2017 where he went through tests including an MRI scan.
After a full head and spinal MRI scan, Sammy and his family had yet another shock waiting for them. The doctors told them that his cancer had returned.
Though it was not as big as the one he had when he was first diagnosed, the doctors said that putting Sammy through another surgery was not an option.
They informed that there was no way that Sammy could be treated again and that there was no cure.
Devastated by the news, the family along with a few of their relatives, took a vacation and flew to Disneyland to celebrate and make some precious memories with their beloved little son.
Sammy resumed his treatment on September 18, 2017. He underwent radiation treatment for five days per week for the next six weeks causing him to lose his hair again. Sammy's skin was burned from the radiation as well.
Going through radiation treatment helped Sammy, as he was put off the steroid that he was taking to decrease the swelling around growths in his spine.
Sammy and his family once again found a ray of hope when an MRI scan done on January 9, 2018, showed no masses.
With very few options left, the family chose to go ahead with outpatient chemotherapy treatment, and Sammy began his chemo from February 5, 2018.
Just after his first outpatient chemotherapy treatment, Sammy faced complications, and on February 8 he was diagnosed with negative pressure hydrocephalus which a rare disorder.
Sammy's parents did not want their son to go through anymore and in the end decided to stop all his treatments. They tried to make the maximum of what little time they had left with him.
The boy's cancer was returning in full force now that his treatment had been completely stopped.
Kristen shared that they took the step of ending his treatment because they knew what was best for their son and also knowing that Sammy desperately wished to be home with his family.
During his last days, his family took him to Ryan House, a pediatric hospice care facility, because they could not find round the clock care service for him from their home.
He passed away on April 12, 2018, when he was six years old. He took his last breath lying in the arms of his mother and surrounded by family and love.
Sammy's mother, Kristen, who was a former firefighter, became a full-time mother when Sammy was born on January 16, 2012, and his father is a police officer.
He has a younger brother named Logan, according to the website created by Kristen, Adventures of Super Sammy.
Here is a story of a nine-year-old boy who defied all odds and showed that he was a fighter; the little boy remained so positive that he told his parents that they were only allowed to cry for 20 minutes after he passed away.
It is the tragic story of young Baily Cooper from Bristol who battled Non-Hodgkin lymphoma long enough to meet his baby sister.
Baily was diagnosed with cancer in 2016 and went through numerous chemotherapy sessions and had to make several visits to the hospital, after which his cancer went into remission, and he was allowed to get back to his usual routine.
But in August 2017, the Cooper family was heartbroken to hear that Bailey's cancer had returned and gradually turned terminal.
Though the doctors told the family that young Bailey would only live for the next few weeks, he was determined to survive long enough and meet his baby sister, who was due in a few months.
The little boy proved to be a survivor and was present at the hospital to welcome the newest member of the by taking her in arms. He even named her Millie.
Just a few days after Millie was born, Baily began to grow weak. He eventually passed away inDecember 2017, surrounded by his mother and family.
Please fill in your e-mail so we can share with you our top stories!