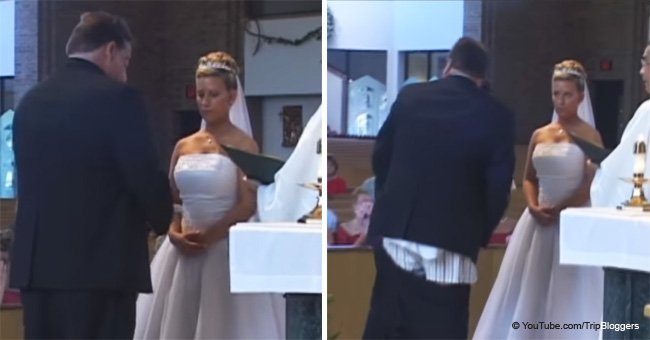 Best man loses pants during wedding ceremony and groom can't stop laughing
Footage of a church wedding became viral after the best man accidentally lost his pants in front of the guests as he stood at the altar. The groom couldn't stop laughing.
What supposedly was a romantic moment became a hilarious scene when the best man unintentionally dropped his pants as the bride and groom were in the middle of exchanging rings.
The best man must have already felt anxious as he had to stand in front of many guests at the altar beside the couple, but the incident could have given him even more anxiety and humiliation.
Luckily, everyone seemed to laugh it off, especially the groom who was unable to stop himself from laughing minutes after his best man's pants accidentally dropped.
Follow us on Twitter at AmoMama USA for more viral stories and videos.
When his pants unexpectedly fell, it was lucky the best man was able to catch his pants and quickly put them back on.
Everyone saw what happened, and all the guests tried to suppress their laughter, but almost all of them failed. Luckily, it was a small ceremony, and there weren't a lot of people present.
The priest tried to keep a straight face but, later on, said that the incident was an example of why weddings are a happy and joyous occasion.
His best man's unfortunate fate humored the groom. With a lapel mic on him, he was heard saying that the incident was a "classic."
At one point, the bride even told her groom to "quit laughing."
As the bride put on the groom's ring, she was unable to say her vows well since her husband-to-be was too busy stopping himself from giggling loudly.
The instance was probably the best example of those moments where it's inappropriate to laugh, but somehow, it's just hard to stifle a giggle or two.
Supposedly, the internet also found humor in the incident since the YouTube video has already been viewed more than 21 million times since it was uploaded in 2009.
Meanwhile, at another wedding, it was the bride who couldn't get it together and wouldn't stop laughing after her groom messed up his vows.
Please fill in your e-mail so we can share with you our top stories!