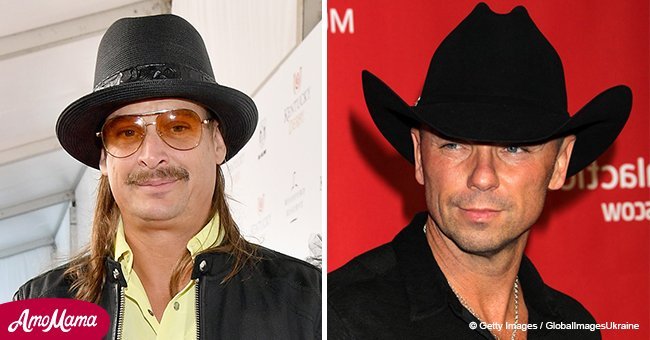 Kid Rock joined Kenny Chesney on stage and bewitched fans with a stunning duet

Kenny Chesney and Kid Rock shared two songs in front thousands of fans attending Chesney's Detroit concert at Ford Field.
Chesney fans had no idea what was in store on August 13, 2016, as they enjoyed the electrifying performance. About 50,000 attended the "Spread the Love Tour" that night.
Chesney had a star-studded lineup prepared. Miranda Lamber, Jake Owen, and Old Dominion all took to the stage to give the audience a compelling spectacle.
Follow us on Twitter for more @amomama_usa.
The year prior, Matthew Stafford, quarterback for Detroit Lions, surprised the audience as he arrived on stage to shock the crowd.
But in 2016, the show's performance level was taken up a notch or more when Kid Rock decided to show up to unanticipated fans.
The local phenomenon sang the hit "Cowboy" as a duet with Chesney, who released the single back in 1999.
They then hit fans with an old classic, "You Never Even Called Me by My Name," released in 1975 by David Allan Coe.
The song earned a number eight spot in the US back then, and number four in Canada. It was Coe's first Top Ten hit.
The crowd was blown away by the two's amazing energy together. Later, Chesney and Rock walked off stage with hands clasped in the air as the crowd went wild.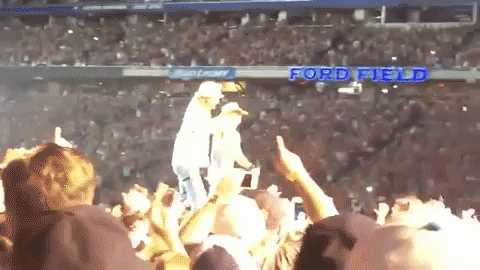 Source: YouTube
Rock is a legend in his own right. But recently, just before the icon Aretha Franklin passed, he paid respects. The musician posted a heartfelt message on Instagram.
Rock was among several others stars who sent words of support and appreciation when they learned of the "Queen of Soul's" poor state of health.
Rock directed a message to Aretha which said:
"Sending lots of love and prayers for Aretha. Truly a woman God has his hands on. All of my RESPECT - forever. Kid Rock"
Back in 2014, Rock made a surprise appearance at Stevie Nicks' during a performance at the Palace of Auburn Hills.
While she sang "Landslide," Rock took the opportunity to sneak up behind Nicks on stage and embrace her from behind. The two exchanged a few words before Rock gave her a kiss on the cheek and walked off stage.
Later Nicks revealed that the moment was "unforgettable" since the two have a "very special friendship" since meeting in 2001.
Rock also shared some secrets, letting people know what he told Nicks on stage. He said, "her security was not very good - joking of course."
Please fill in your e-mail so we can share with you our top stories!