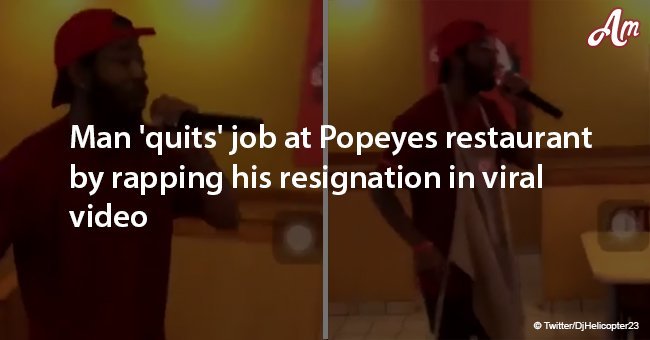 Man 'quits' job at Popeyes restaurant by rapping his resignation in viral video
A man and his cousin decided to resign from his job in a unique way that many people would not dare to do. Cedric Workuff and his cousin, who goes by DJ Helicopter 23 on Twitter, were seen rapping it out on a video which turns out to be his resignation spiel.
In the video that went viral on social media right after it was posted, Workuff sported a Popeyes restaurant uniform, which made it clear that he was a part of the staff. Knowing that the clip was rolling, he decided to go inside the branch with a portable microphone and speaker system, attracting the attention not only of his co-workers but everyone else in the shop at the time.
While everyone could've thought it was a publicity stunt by the branch, having their employee entertain their guests, it was actually a real resignation announcement by one of their crew members.
Before starting to play his song, Cedric said: "So I got an announcement, I'm quitting my job today." He then plays the beat of Big Pun and Joe's song "Still Not a Player", but instead freestyling his own lyrics.
The video also showed amused customers trying to record what was happening, which definitely does not happen every day. Twitter seems to have been enjoying the bop as well, making sure to share their comments about the video.
Although people believed that it was actually a real resignation, Workuff admitted the truth to KSHB. According to him, he didn't actually work in the restaurant, and the two men only did that to entertain people and spread it on social media.
They added that the lyrics were improvised as suggested and that their main goal was to bring back "peace and love through laughter". The song was clearly a hit among the people in the restaurant, and while it was hilarious, a particular employee stole the show.
The unknown man turned out to be working from the kitchen, and when he got out of the door holding a plastic container, he went to the rapping man and started showing off his dance skills. After that, he got behind the counter again and followed the beat of the song one more time while everyone around them laughed and recorded the entire thing.
While everyone seemed to be having a great time, the video ended when the manager of the restaurant asked them to leave. It was most definitely fun while it lasted, however, and they were able to achieve their goals of making people laugh and spreading their message on social media.
To date, the original Twitter post has garnered more than 144 thousand retweets and 303 thousand likes, proving that sometimes, all people ever need in this stressful world is a good laugh and some good vibes.
Please fill in your e-mail so we can share with you our top stories!