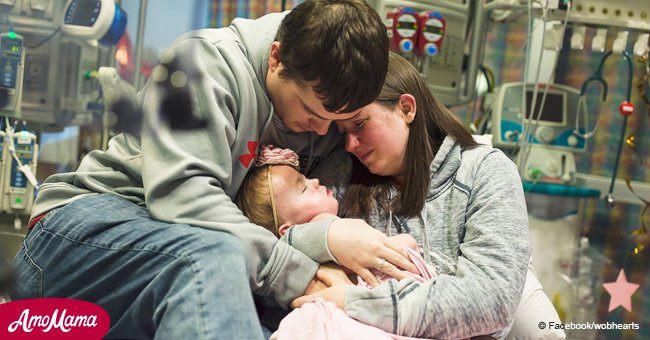 Heartbroken parents share photos of 2-year-old's dying moments to encourage organ donation
A grieving family from Arlington, Kentucky, documented their daughter's final hours to inspire others to consider organ donation.
Their moving photos were taken at the Monroe Carell Jr. Children's Hospital at Vanderbilt and were shared on Facebook.
It shows 2-year-old Adalynn Grace Rogers surrounded by her loved ones. She had a Congenital Heart Defect (CHD) that affected blood circulation to the heart.
Read more on our Twitter account, @amomama_usa. Adalynn passed away on January 26, and the moving photos can be viewed below.
Her 28-year-old father, Justin Rogers, told People that the photos provide "another look at her life and what she went through."
Adalynn's parents hope that sharing her last few hours with the world; others might consider organ donation.
When Adalynn went into heart failure a few months before her second birthday, a mechanical pump was implanted as a temporary measure.
Her parents were informed that Adalynn's only chance of survival was a heart transplant, and they said: "It was scary because we didn't know when or if it would come."
Their daughter never received that chance and was placed on a breathing tube due to internal bleeding.
In the three days before her death, she also aspirated into her lungs and was left without oxygen for several minutes, which lead to severe brain damage.
There was nothing left to do apart from switching off the machines which were keeping Adalynn alive. Her dad says:
"It was just a question of how much time we had left with her before we had to turn off the machine."
A social worker contacted photographer Suha Dabit, who captured their final moments with Adalyn on January 26.
Dabit arrived at 9 a.m that morning, and Adalynn drew her last breath three hours later.
Justin said their sons were not prepared to say goodbye to their baby sister and he hopes that the photos would be able to give other families what they never received.
Earlier this month, another heartbreaking photo went viral when a teenager was seen cuddling her boyfriend minutes before life-support was switched off.
The teenager was saved after nearly drowning off the coast of Wales, but doctors couldn't save his life, and he never awoke from his coma.
Please fill in your e-mail so we can share with you our top stories!