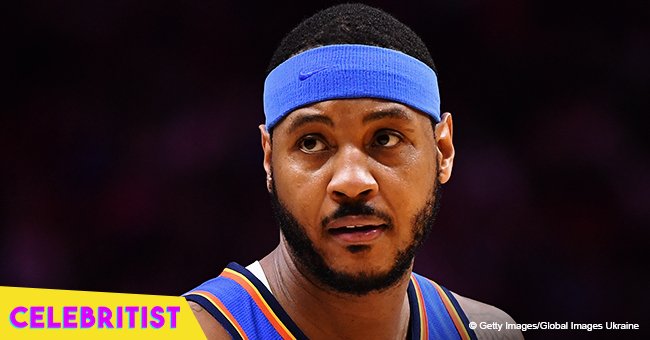 Carmelo Anthony reportedly fights back against woman claiming he stalked her & kidnapped her kids
A woman Carmelo Anthony says "needs professional help" has accused the star of stalking her and kidnapping her children. Anthony has denied the allegations after the woman filed a restraining order against him.
Carmelo Anthony is in the middle of a court battle against a woman who has made disturbing allegations about him. She claims he stalked her and kidnapped her children and she has now been granted a temporary restraining order.
In her original lawsuit, the woman who goes by the name of Cheryl and whose last name is being withheld due to suspicions that she may have mental issues according to The Blast, said Anthony threatened to shoot her and her family because she refused to have a relationship with him. She filed for a restraining order which was later granted on a temporary basis until a new hearing that's set to be rescheduled for late this month.
In response to her claims, the basketball star submitted a declaration to the court denying the allegations and deeming them "nonsense." He said that he found the allegations "very strange" specially because he's never met Cheryl.
"It would be good if Cheryl could get professional help," he said and added,
"My hope is that the court in Santa Monica can recognize that this is a situation in which Cheryl … is unstable and confused and needs help, and is not a situation in which there is any factual basis or need for a restraining order."
Anthony's predicament is reminiscent of Chris Brown's recently. In June, a woman by the name of Cassandra Rose Holland was granted a restraining order after she accused the R&B singer of stalking her and striking her at a party. Brown, like, Anthony, denied her claims and suggested she had mental issues.
More doubt though lingers over Brown because just a month earlier, a Jane Doe also filed a battery lawsuit against him. She claimed the he imprisoned her in his home, prohibited her from using her cellphone and allowed an acquaintance of his to rape her twice, aside from wielding a weapon at her and supplying alcohol and drugs to his guests. The case is still under investigation.
Please fill in your e-mail so we can share with you our top stories!