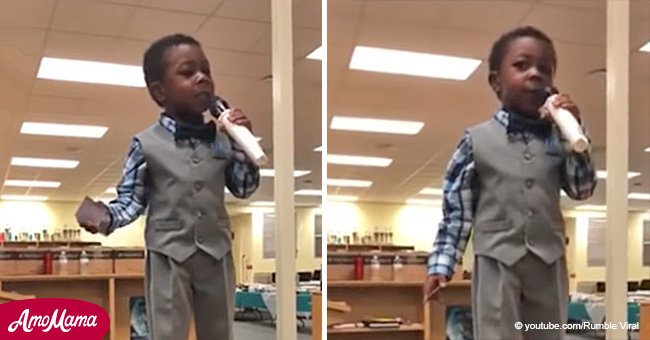 4-year-old boy becomes influential due to a viral motivational speech about reading

The value of reading is undisputed, but it's getting harder to get children interested in words and books.
That is why 4-year-old Master Caleb Stewart's speech of the benefits of reading is going viral. He gave a talk at a middle school teacher's night a month ago.
Read more on our Twitter account, @amomama_usa. The adorable video of the well-spoken toddler can be seen below.
Stewart starts his talk by introducing his "beautiful sister" and thanking the teachers for having him.
He explains: "I personally read every day and absolutely love the adventure of reading. I will stand before you and speak with confidence and not be afraid."
He adds that reading has made him smarter and improved his vocabulary and language skills, "allowing [him] to pronounce new and big words without even thinking about it."
The teachers were astounded when the 4-year-old told them that reading has also enriched his long-term memory and enhanced his problem-solving skills.
According to Stewart, parents and teachers should encourage their students to read more often, and not only books.
He said that books are excellent tools for reading, but children could also read newspapers and magazines.
The adults assembled to listen to Stewart chuckled when he said that even restaurants and billboards could be beneficial.
Karen Johnson from Babble concurred and wrote in her article that there are "boxes of granola bars, a water bottle, and the mail" in her kitchen.
She appreciates that all of those items could be used to "spark [children's] imagination and curiosity" as only two of her three children are readers.
Her third child would rather "engage in a lightsaber battle than sit and read" so any creative reading tool would benefit him immensely.
Since being shared on Facebook, Stewart's post has gone viral and received more than 5,3 million views and 110,000 shares in less than a month.
Johnson said his wise words inspired her to read more too. Adults who want to begin their own journey with books can start with these ten titles.
The list was compiled after Barbara Bush passed away back in April. She was a staunch supporter of reading and literacy.
Please fill in your e-mail so we can share with you our top stories!