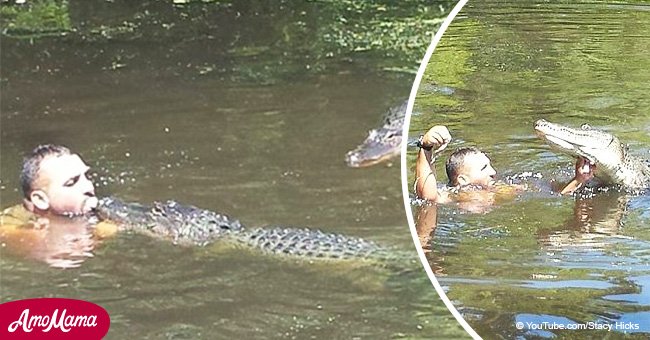 Man swims with alligators and even feeds them from his mouth
Swamp tour guide, Lance LaCrosse, left hundreds of people in shock when they saw him swimming with alligators and then saw an alligator snatching a marshmallow from his lips.
The series of videos which showed him swimming with several large alligators in a Louisiana Swamp went viral on Facebook and YouTube.
Lacrosse who also goes by the names Gator Boy, Hollywood and Alligator Whisperer was also called stupid and reckless for his actions.
However, those who know that he grew up on the bayou in Jean LaFitte may actually think he knows what he is doing.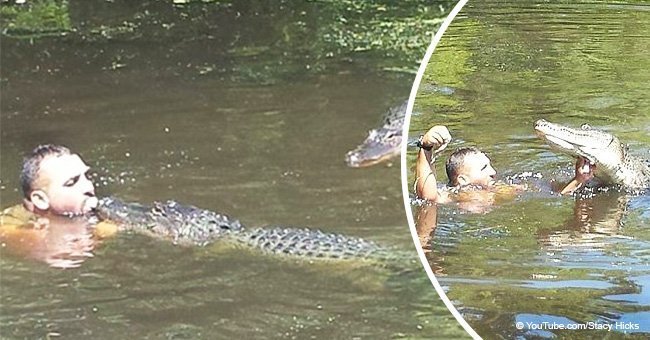 Source: YouTube
Read more on our Twitter account @amomama_usa.
"I don't disrespect them, I don't try to drag them out the water, hold them down, wrestle them,. As you seen in the video, I pick 'em up and put 'em right back down. I'm never rough with them.''
Lance La Crosse, Nola.com, June 13, 2014
Stacy Hicks, an Oregon tourist who shot the videos said she was particularly concerned about LaCrosse's safety.
"I was worried about his safety especially since he told the group he had been bitten a few days before."
Stacy Hicks, ABC News, June 11, 2014
One month prior to the June incident ago, a 9-foot alligator took hold of his right thumb. Other than that, he has had some minor close calls.
In one incident he was approached by a 10-foot gator while he was engaged with another alligator. The gator went underwater and he began looking for it.
However, the bushes in front of him began shaking so he knew the gator was coming back for him and began swimming back to the boat.
The alligator he was attending to before was behind him and the big alligator grabbed him instead of LaCrosse.
"When he had the second alligator coming up behind him we were all a bit scared that he could get bit."
Stacy Hicks, Nola.com, June 13, 2014
After the feeding incident in June 2014, LaCrosse was ordered to stop feeding the alligators under Jefferson Parish Law.
LaCrosse is not alone when it comes to dealing with gators. Last month, Mackenzie Nolan's story was highlighted for her strong bonding with a 14-foot gator named Big Tex.
Big Tex is being kept at Beaumont's Gator County Park.
However, the fears regarding gators continue to be very real as there have also been some very unfortunate incidents.
When Nicole Mojica of Lake Nona, Florida, recorded a video of her 6-year-old son playing with an inflatable alligator, little did she realize that an actual alligator was lurking nearby.
Alligator tragedies also surfaced in Florida when a woman was killed by an alligator and her body was discovered inside its stomach.
One can certainly agree that it gives validity to the concerns raised by LaCrosse's close interaction with the alligators.
Please fill in your e-mail so we can share with you our top stories!