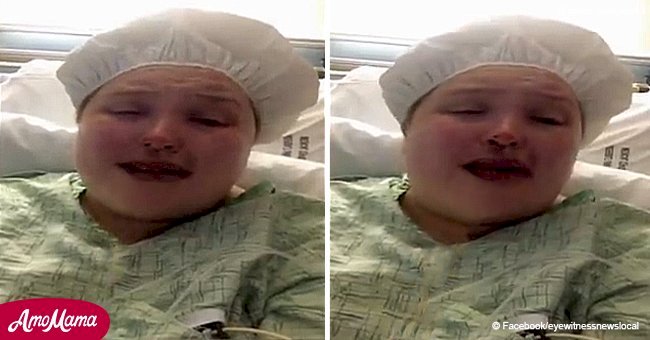 Heartbroken mother lost three children in a tragic house fire but didn't lose her faith in God

Two months ago on July 2, 2018, Christin Henry experienced an unimaginable loss when a house fire occurred. She found a way to turn the event around to inspire others.
Christin lived in Kentucky with her husband John and their three children: Ivy, 2, John-Ross, 4, and Ireland, 7. The horrific incident took place while all five were in their mobile home in the Reynolds Station area of Ohio County.
When it happened, 2-year-old Ivy succumbed to the fire right away. Christin took to Facebook just one week after it happened. The video is found below.
Follow us on Twitter for more @amomama_usa.
But there was more devastating news to come. John-Ross and Ireland flew to Vanderbilt University Medical Center in Nashville, Tennesee for burn treatment immediately after the fire.
John-Ross passed away a few days later at the hospital. His sister Ireland sadly followed three weeks later on a Sunday night.
Despite their hope that Ireland might recover, doctors had discovered a bacterial infection within her blood. The antibiotics were unable to help Ireland to recover.
John and Christin are now left with none of their three young children. They themselves are still recovering from injuries sustained in the fire.
During that time, however, Christin took to Facebook to gain strength through prayers, and to share her own faith with others.
According to Liftable, she wrote on her page:
"Ireland went home to be with Jesus just a little while ago. I held her and we loved on her until she took her last breath here. And she took her first breath on heavens shore."
Still in bed wearing her nasal insertions and hospital wear, Christin expressed her gratitude to followers:
"I'm so grateful for all the prayers and the people just loving on my family."
She also gave a reminder and assured viewers that she is not bitter, encouraging them to not be either in such difficult situations.
"God has been so good. I don't want y'all to think I'm bitter. I'm not bitter. God is faithful."
Christin spoke about her two children Ivy and John-Ross saying:
"They're running on heaven's shore right now, so happy. Praise the Lord they don't have to deal with this old world anymore."
The family had set up a GoFundMe page which raised more than $117,000 for medical and funeral expenses. While attendees will be broken-hearted at the occasion, Christin says that "Heaven just got sweeter" above where Ireland is "running on streets of gold."
Back in March, one mother gave the ultimate sacrifice to save her child when her home was engulfed in fire.
Shelby Ann would have loved to see her child grow up, but sadly she passed away before she could be rescued.
Before that, however, the heroic mother dropped her 12-day-old baby out of a second-story bedroom window and onto a pile of debris.
That was where rescuers found baby Keana Davis. By the time they reached the bedroom, the mother had succumbed to carbon monoxide intoxication.
Please fill in your e-mail so we can share with you our top stories!