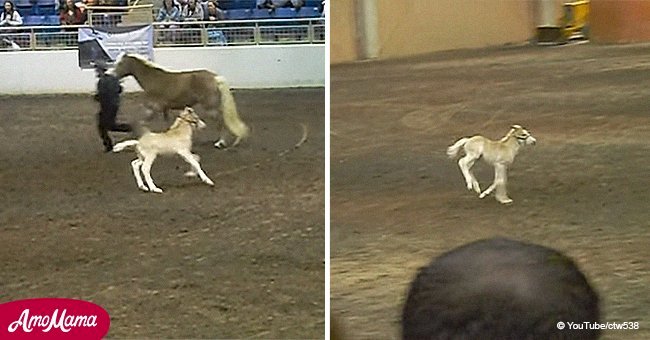 Haflinger foal goes nuts and steals the show

A 2010 video of a 21-day-old Haflinger foal that charmed everyone with his spontaneous excitement in the middle of a parade went on to become viral in YouTube.
The a little over 1 minute clip was uploaded on March 5, 2010, and has been viewed more than 1.2 million times, receiving 13.000 likes and hundreds of comments.
The adorable episode took place during that year's PA Horse Expo as part of an event called the Parade of Breeds, according to the video description. Read more on our Twitter account @amomama_usa
"This cute little guy's name is Blitz and he is a 21 day old Haflinger foal!" was also stated in the description by user "ctw538."
The animal trainer was walking Blitz's mother, holding her close to him with a rope. The foal was supposed to stay close by and keep his mother's pace, but he couldn't resist running around the arena to the amusement of the audience.
The narrator of the parade was trying to follow his script, talking about the Haflinger breed, but the laughs of the public because of the foal's behavior kept interrupting him, making him say that the animal was "having too much fun for its good."
"I'm sure that Haflinger mom feels like a human mom when her kid is acting up during a church service or something," wrote user "faroshcale," who imagined the mother, a professional show horse, being embarrassed by her baby.
"Foals running look like two people wearing a horse costume who haven't coordinated their strides, " added "Stallya," making fun of the clumsy way the young horses run when they are still learning how to use their bodies.
"The foal stole the show with his cuteness!"
-Pet Crusaders, YouTube, 2016.
As funny as Blitz was in this whimsical performance, he is just one of many foals who keep stealing the netizens's hearts with their antics. Internet can't seem to get enough of the cuteness and silliness of these animals.
If you are as obsessed with baby horses as we are, you definitely have to see the compilation of clips of foals acting funny put together by Inspired, courtesy of "America's Funniest Home Videos."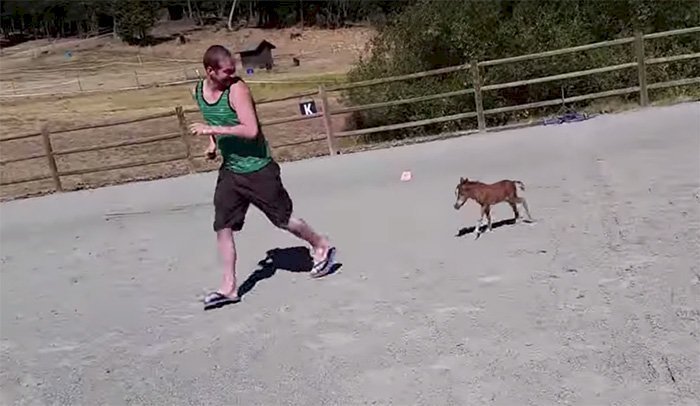 Source: YouTube/Sterling Bartow
As the cherry on top, for a guaranteed overload of baby horse cuteness, here is a video of the smallest foal we have ever seen enjoying himself in the company of a very lucky man who chases him around at the farm.
Please fill in your e-mail so we can share with you our top stories!