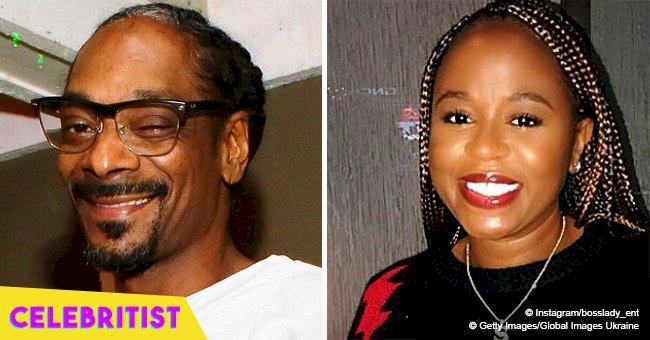 Snoop Dogg's wife shows off slimmer figure, jamming to her daughter's song in recent video

Shante Broadus recently shared a video of her dancing to her daughter Cori Broadus's song. The wife of Snoop Dogg has been posting clips of more regular dance routines, and in this new post, the results are evident.
The footage shows Shante sitting cross-legged on a Yoga mat. Her outfit is typical workout wear- Grey sweatshirt with a hoodie, black yoga pants, and matching socks. Bright pink sneakers are placed on the floor to her left, along with a water bottle.
The clip is shot in an indoor space with a "Boss Lady Entertainment" backdrop. Boss Lady is the name Shante proudly bears on her Twitter and Instagram accounts. She once disclosed that the nickname was given to her by her husband, rapper Snoop Dogg.
So far, it appears the TV producer, 46, is dancing more as part of a workout regimen, and the results are kicking in. Her fans told her as much in the comments:
"Girl I didn't know this was you at first you look damn good and you're losing that weight keep it up"- @ogdatcocobacc2
"You lost weight congrats you look truly amazing Tae!- @foncelllandryofficial
"Sounds good!!!! Looking good Boss Lady!"- @tennisonrenee
The proud mom was listening to her daughter, Cori's new song, "Love me for me." Cori is professionally known as "Choc," a nickname she got from her father.
The 19-year-old is putting in the work and rising steadily as an R&B singer. Before now, the last child of Shante and Snoop already had three singles- "Rake It Up," "Same," and "New Phone, Who Dis?"
Meanwhile, Shante has every reason to be proud of Cori. At the age of six, she was diagnosed with Lupus after her parents noticed a light spot on her face. This was followed by drastic weight and hair loss.
Shante once recalled how Cori did not get an accurate diagnosis for so long. "No one could tell me what was wrong," she said. "They drew tons of blood and said she has old-person cells. They gave her all kinds of [medication]. But she went downhill."
Things got better after Cori got the right diagnosis, and today, she's making her parents proud with her drive and passion for music.
Shante and her husband of 21 years have two other children, sons Corde and Cordell.
Please fill in your e-mail so we can share with you our top stories!