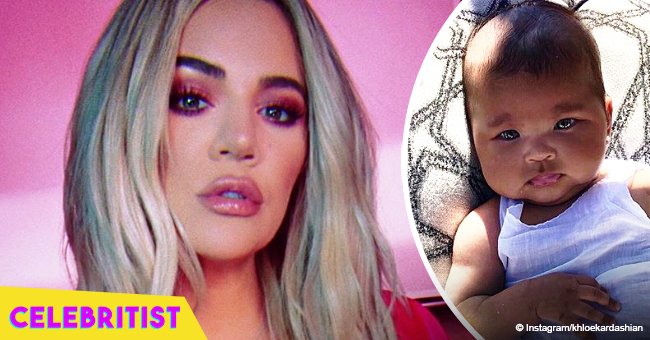 Khloé Kardashian steps in after her baby was subjected to racist abuse
True Thompson is only 5-months-old, but she's already the target of racist comments all over social media. However, the baby girl's mother, Khloé Kardashian, is "blocking out the noise" as she slams the haters in recent tweets.
After Kim Kardashian took to her Instagram last week to share an adorable photo of her youngest daughter Chicago with cousins Stormi, Kylie Jenner's daughter and True, Khloé's daughter, social media proved, once again, how ugly people can be while hiding behind a screen.
The photo, which Kim captioned "The Triplets," referencing the fact that the three babies were born a few months apart from each other, has received a lot of attention, garnering over 7 million of likes and even more comments, a high number on social media even for a Kardashian.
However, while most people focused on how cute the three girls are, some trolls and haters filled Kim's comment with distasteful comments targeting baby True for her skin color. Even though the three girls' fathers are black, Stormi and Chicago have a lighter complexion.
"True looks black, Chicago and Stormi, are the cutest mixed looking kids," said one user, and another added, "I hate that True is so dark, the other true are a nice mix…she's a cute kid just too dark."
In the middle of the storm, Khloé still got thousands of supportive messages from her loyal fans, who started to report anyone who had something bad to say about True and fought back the hateful comments with lovely collages, fan arts and videos of baby True highlighting her beauty.
While Khoé stayed silent about the whole ordeal for a few days, she recently took to social media to finally slam the haters. First, she shared a lovely pic of her baby on Instagram but turned off the comment section to avoid more hateful comments.
She also answered several tweets from supporters, calling people hating on her baby "miserable" and "disgusting."
"Some other people are truly miserable in their lives, but I truly try to stay in a place of love and peace. My baby True is that for me. I'm blocking out the white noise," she told one fan.
Read some of Khloè's tweets below:
The 34-year-old Good American designer also stated that hate will ever win in her life, and repeated once again how blessed and happy she is to be True's mom, calling the baby her "sweet angel."
Meanwhile, baby True is living her best life, being spoiled by her parents, vacationing on tropical spots and learning how to swim at 5-months-old.
Please fill in your e-mail so we can share with you our top stories!