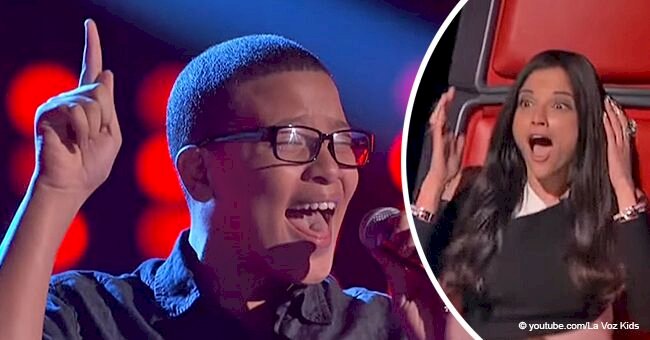 Kid with jaw-dropping voice leaves judges astonished when they turn their chairs around

This young man left both the audience and the celebrity panel of judges speechless with his impressive performance of the third season of "La Voz Kids." The original singer of the song was shocked.
In 2014, a boy named Franser Pazos surprised at the Spanish-speaking version of "The Voice Kids," giving the coaches and the public the privilege of witnessing his unbelievable talent, as he sings Natalia Jiménez's "Creo en Mi."
The video of Pazos blind audition was shared by the singing competition's YouTube channel on March 15, 2015, and to the date it has been reproduced more than 37 million times, and received 196.000 likes.
Cuban-born Pazos was 14 years old at the time, and he showed his courage and skills onstage as he gave his best performance, despite having picked a very demanding song to sing. Read more on our Twitter account @amomama_usa
Pazos flaunted his wide vocal range during his interpretation, making the judges, who were not seeing him, mistaken him for a girl because of the way he reached the track's highest notes.
When the three Latin American star judges Pedro Fernández, Daddy Yankee and Natalia Jiménez pressed the red button and turned around in their chairs, they were shocked.
The entire audience stood up to give Pazos an standing ovation, and it was so overwhelming for the teenager that he couldn't help but shedding some tears for the way his performance was received.
"Oh, my God. Oh, my God. I can't believe it," exclaimed Jiménez after the applause, after getting on her knees to show her respect for the young talented singer.
Fernández took his turn to congratulate the child and offering some corrections and advice, and he foresaw that Pazos was going to have a brilliant professional future.
"I won't promise you the moon and the stars. But I can offer you making you the winner of "La Voz Kids."
-Pedro Fernández, La Voz Kids, 2014.
Jiménez also commented on how difficult the songs she writes are, and she assured that only people with a really powerful voice could sing them as intended. She also promise him to make him win the competition if he chose her as coach.
Daddy Yankee, the world-famous reguetón singer, expressed his amazement over having encounter a male performer with the ability to reach such high notes, and tried to win him for his team as well.
Having considered the three options of coaches, and after hearing what they had to say about him, Pazos decided to join Daddy Yankee's team of coachees, to the great delight of the Puerto Rican.
During this year's edition of "La Voz Kids" a Colombian 11-year-old named Carlos Mario Martínez also managed to enchant a completely different set of celebrity judges with his impeccable performance of a song by Gloria Estefan.
He even made one of the show's harder judges, Andrés Cepeda, to become so emotional by his singing that he had to remove his glasses to wipe some tears out.
Please fill in your e-mail so we can share with you our top stories!