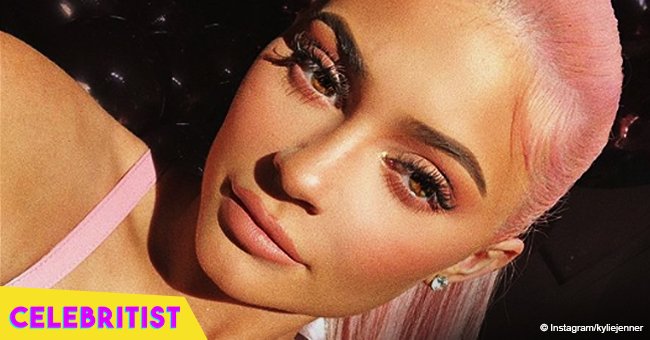 Kylie Jenner shares adorable pic of baby daughter Stormi in metallic dress
After Kylie Jenner backed up with her decision of not sharing pics of her baby daughter on social media, baby Stormi has been stunning fans with her adorable smile and cute outfits. The 7-months-old tot stole the spotlight from her famous mom with a metallic dress in a recent pic.
New mom Kylie Jenner is proud to show off her beautiful baby all over social media. The 21-year-old makeup mogul recently shared an adorable photo with Stormi on Instagram, proving that the girl is already a fashionista and can pull off any outfit, just like Jenner.
In the photo, Kylie is donning a body-hugging pink latex dress and has her newly dyed pink strands tied up in a high ponytail. Stormi, on the other hand, rocked a silver metallic dress paired up with a pair of Adidas with shimmering details and her hairstyle in little pigtails.
While Stormi is looking to the side, her mom is enraptured looking at her, as they posed in front of dozens of silver heart-shaped pink balloons, which were probably part of the birthday celebration for Jordyn Woods, Kylie's best friend, and new business partner.
Fans of the reality star took to her comment section to share their thoughts on the photo. One user wrote "This baby is so damn cute!!! I can't deal with her," another added, "SOOO CUTE! she totally looks like ya. much luv for u Kylie and of course little Stormi!" and a third one complimented Jenner on her look saying "Oh my goodness girl I love your hair!!!!"
Kylie has been pretty busy making her business grow after Forbes named her as the youngest woman to reach a 1 billion fortune on her own. However, Jenner still manages to spend most of her time with her daughter, as she has revealed on several occasions that Stormi changed her life for the best.
"Everyone says you change completely when you become a mom, but I really feel the same, just better," Jenner said to her sister Kim Kardashian in an Evening Standard interview a few months ago. And added:
"I think more about the future because of her. Every time I leave and I'm stressed about leaving her, I'm like, 'I'm doing it for you.' So I don't know what really has completely changed my world, besides her, of course. But I feel like it's only gotten better. You're less selfish."
Kylie and Kim had their babies two weeks apart, with baby Chicago being older than Stormi. However, the girls get to hang out together all the time, and Kylie noticed that despite the short distance in time they have, Chicago seems to be more advanced in certain aspects.
"They hang out all the time. It's crazy how fast they grow, because Chi is just, like, two weeks older, but you can tell she's a little bit more advanced. And then, right when Stormi hits two weeks, she's doing the same things Chi was doing, and they're like… it's just crazy to see them grow up together."
The girls, alongside Khloé's Kardashian daughter True Thompson, recently blew the internet after Kim posted an adorable picture of the three babies that she captioned "The Triplets."
And while some haters and trolls made it their mission to pick the photo apart trying to decide which girl is cuter, the Kardashian fans fought back by praising all of the baby girls equally.
Please fill in your e-mail so we can share with you our top stories!