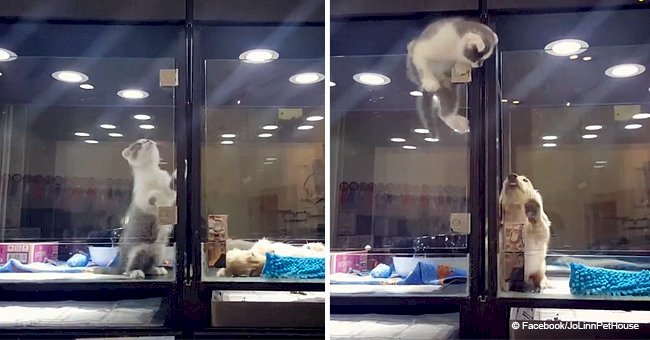 Adorable pet store kitten escapes enclosure to visit lonely puppy friend
A tiny kitten and a puppy proved that true love can overcome all odds.
JoLinn Pet House, a pet store in Taipei, Taiwan, posted a video of an incredible incident that happened on their premises and the clip garnered over 4,8 million views.
What enchanted viewers was the determination of a tiny kitten to join its beloved friend in the next-door booth in the pet shop.
The two were divided by a high acrylic partition, but the kitten was committed and nothing would get in its way. Read more on our Twitter account, @amomama_usa.
"AIN'T NO MOUNTAIN HIGH ENOUGH TO STOP ME FROM GETTING TO YOU"
The kitten leaped up until it managed to hang onto the top of the barrier, much to the puppy's excitement.
The pup was up on its back legs trying to reach his feline friend and give it a happy lick. The kitten made one last titanic effort and the two friends were reunited.
This cute video is a sad reminder of the isolation that tiny animals suffer in pet shop waiting – sometimes for weeks – for someone to buy them.
KITTENS AND PUPPIES TAKEN FROM MOM AND SIBLINGS
Puppies and kittens are usually taken from their mothers at a young age. These tiny creatures are considered ready to be weaned and sold between eight and 12 weeks old.
LONELY BABY CATS AND DOGS SUFFER IN SHOPS
In a natural situation, a puppy or a kitten grows up in a big happy family, with a loving, protective mom and boisterous siblings to play with. In a pet shop scenario, the tiny animal is all alone, isolated and very lonely.
WHY YOU SHOULDN'T BUY YOUR PET FROM A STORE
As sweet as this story is, prospective pet owners should think twice before buying their new pet from a pet shop.
It has been shown that 90% of the puppies in pet shops are brought from puppy mills/farms, or commercial facilities that breed dogs to sell to pet stores, often in hideous conditions.
PUPPIES WITH HEALTH PROBLEMS
Many of the puppies sold in pet stores have health problems due to the unsanitary conditions in which they spend their first weeks. People are advised to adopt their new pet from a shelter, rather than buying it from a pet shop.
ADOPT A HEALTHY HAPPY PET
The new pet will not only be a lot cheaper, but healthier, and happier too. Shelter staff will usually try to get a pup or kitten that will match the adopter's temperament.
Animal shelters give dogs examinations and vaccinations, as well as spaying or neutering them before they are adopted.
In a related story, Jane and Tom adopted Boombox, a deaf female Boxer from the Carolina Boxer Rescue, and were surprised to discover their new pet knew sign language.
Please fill in your e-mail so we can share with you our top stories!